Are you the type of traveler who scours the hot award lists before choosing a hotel? We don't blame you – so do we! And when it comes to awards, this one is definitely on our radar. The annual Travel + Leisure's 'World's Best Awards' 2021 reader survey ranks the best of the best in various destinations, including airlines, airports, car rentals, cities, hotels, spas, islands, and more. This year, we are thrilled to see that 19 Belizean properties are in the running to be crowned world leaders in the hospitality industry.
Here are the Belize hotels up for the coveted honor this year. Go on, start your hit list for your next Belize vacation. Muse over 2020's Belize resorts awarded World's Best here. 
Winners are selected entirely by readers and we would love to share and support our Belizean nominees this year. So let's rally and click here to cast your vote now.  Voting ends May 10, 2021 and winners will be announced in October, 2021.
In the early 1980s, Francis Ford Coppola visited Belize and immediately fell in love with the location. Today the lodge is a 20-room luxury hideaway. Here, waterfalls tumble into turquoise pools above the jungle canopy. Its remote mountain setting allows guests to explore the ancient civilization of the Maya and to return to their own thatched roof dwelling, rich with Guatemalan décor and nestled in the foliage of the Mountain Pine Ridge Reserve.
Located three miles off the coast of San Pedro, Belize, Cayo Espanto is truly an unforgettable private island retreat. The five-star, world-class resort offers travelers the best life has to offer. Spend your evenings enchanted and your days engulfed in the Caribbean waters that surround each private villa.
Wildly civilized sums up the philosophy of this award-winning Belize Jungle Resort, located in the heart of the Maya civilization. Since Chaa Creek's inception in 1981, owners Mick & Lucy Fleming strove to coexist with nature while creating a true jungle experience. The result is an exquisite blend of natural beauty & man-made comforts.
The definition of agritourism-chic: Copal Tree is a Jungle Lodge, organic farm, and a 12,000-acre nature reserve. The lodge is set in the verdant hills of southern Belize. It offers some of the best in local food and culture, active adventures, wildlife viewing, saltwater fly fishing, and world-class hospitality. There are two swimming pools, a spa, a farm-to-table restaurant, a rum distillery, organic coffee, and sugar farms, and so much more to discover here.
Perched atop of the magnificent Five-Sisters Waterfalls in Belize's famed Mountain Pine Ridge Forest Reserve, Gaïa will fulfill its promise to reconnect you to your adventurous and truest being by disconnecting you from everything else. The second you set foot on the property a weight lifts. The quiet of the rainforest, its birds and butterflies, magnificent flora, the pink and orange sunsets glowing upon the pine trees, and finally, the distant roaring of the waterfall will work their magic.
Nestled between the lush Maya Mountains and the turquoise Caribbean Sea, Hamanasi is a special place from which you can explore the best of Belize on and offshore. The secluded, intimate boutique resort is located on the beach south of Hopkins. Let the warm tropical breezes melt away your hectic life for the laid-back pace of Belize!
The resort is in the cozy Garifuna village of Hopkins, voted the friendliest city in Belize. Spend one day at Hopkins Bay Resort and you'll see why. Ideally, the resort sits on the beach with easy access to the best ocean adventures. Also, it boasts two pools, a concierge desk, a beach bar, and an oceanside restaurant. Its 18 beach houses have all the comforts of home and the amenities of a resort.
Inspiration comes alive at Ka'ana, a luxe outpost where wandering spirits roam free. Nestled deep in the tropical jungle of western Belize, the boutique resort is an oasis of style, culture, personalized service, and modern amenities for well-seasoned adventurers and tastemakers alike.
This luxury resort on Ambergris Caye is pure bliss.  Relax in the 70-foot infinity pool, indulge in a soothing massage by the beach, or paddle a kayak over the island's crystal clear waters. After a day of island adventure, unwind in the luxurious suites and sea houses. These blend island tranquility with full kitchens and all the modern comforts.
Steps away from the sea and the world's second-largest barrier reef, Matachica's serene and technology-free property allows guests to disconnect in order to reconnect. The beachfront casitas, relaxed atmosphere, elegant design, and adults-only property merge to create a truly authentic, restorative getaway.
Nestled within a private 200-acre reserve on the Placencia Peninsula, Naia is an intimate, natural playground. Whether paddle boarding in the beautiful Caribbean Sea, indulging in a customized spa ritual or relaxing among the resort's secluded beach houses and swimming pools, this resort is rustic luxury at its best.
Characterized by its warm and friendly hospitality, Portofino is the epitome of barefoot luxury and relaxation. The beach resort is just six miles north of the charming town of San Pedro. With only 17 rooms, it's the ideal intimate island escape on Ambergris Caye.
Ramon's Village Resort is a beach and scuba diving resort located on Ambergris Caye. Styled after the Tahitian cottages on the Polynesian island of Bora Bora, the cabanas are built from native materials by local craftsmen. A long-running island institution, this hotel is a great base to explore the island.
Right on Placencia Beach, Robert's Grove Beach Resort offers the complete resort package. This resort has 43 rooms, suites and marina villas, 2 outdoor pools, Sea Spa, a full-service marina, and PADI 5-star dive shop. It's everything you need, should you be looking for a one-stop-shop type of vacation.
Known as the only jungle in town, the hillside location of San Ignacio Resort Hotel on the Macal River in Belize's Cayo District is an urban escape of your tropical dreams. Centrally located in its namesake town, it's not often you find a luxury hotel with 17 acres of Belizean rainforest and an on-site iguana conservation project – all while being a short 10-minute walk to the restaurants, bars, and shops of San Ignacio. Not to mention, there's a casino next door. Onsite, 22 well-appointed guest rooms and 5 suites include complimentary wifi, daily purified water, coffee, tea, bathrobes, a safety deposit box, flat-screen cable television, A/C, and a nightly turn-down service.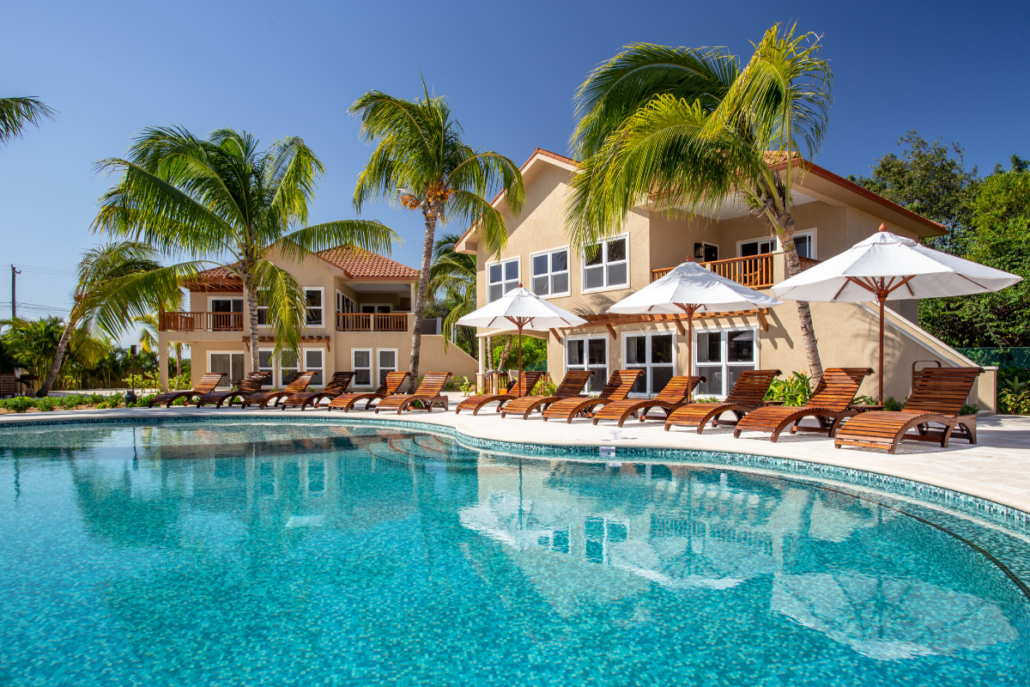 Redefining coastal distancing, Sirenian Bay is an intimate, luxury resort nestled in the village of Seine Bight on the Placencia Peninsula. Since reopening on November 1, guests can take advantage of 12 recently-finished bungalows with a newly all-inclusive experience. On the other hand, there's also the choice of the private by nature beachside villas – now indulgent with a personal chef service or all-inclusive meal add-on option.
Turneffe Island Resort, which has occupied its own island in the Turneffe Atoll east of Belize City for nearly two decades (though parts of the resort date back even farther), does tranquility seamlessly. Since then, it has become a stalwart in a country that everyone has been talking about lately, thanks to a wave of new openings. The 14-acre private island that the hotel sits on was formed centuries ago, when a volcanic peak sank to the seafloor, leaving a crown of a coral reef ringing its perimeter. There are only 22 guest rooms (including 10 private villas), each with a porch looking out on the water. The wide stretch of beach, usually empty, invites you to sit outside in a low-slung chair with a bottle of beer and a spy novel, leaving you feeling like the island belongs entirely to you.
Francis and Eleanor Coppola acquired this beachside hideaway in 2001. Today, this 25-room seafront escape delights guests with individual thatched cottages, decorated with handcrafted Balinese furnishings. Just steps beyond your private deck, the white-sand beach dissolves into the clear Caribbean Sea. In addition to offering an ideal location to experience the sea, Turtle Inn is located a short bicycle ride or walk from the charming sea-front fishing village of Placencia. Here local artisan shops and dining spots can be enjoyed.
Victoria House is an intimate and luxurious resort with the gorgeous beaches of Ambergris Caye just outside your door. Stunning rooms combine with incredible amenities. These include an onsite dive shop, spa, outdoor infinity-edged pools, and a spectacular private beach.
Winners are selected entirely by readers and we would love to share and support our Belizean nominees this year. So let's rally and click here to cast your vote now.  Voting ends May 10, 2021 and winners will be announced in October, 2021.