Belize is officially open! After reopening its International Airport on October 1, international tourists to Belize can vacation at hotels inside Belize's Tourism Safe Corridor.  Below, you'll find a shortlist of top picks for Gold Standard Hotels approved and ready to welcome international guests. Thereafter, you will find other resorts who are Gold Standard Certified but plan to open throughout the month of November, while working towards a Gold Standard seal of approval.
If you're looking for an unforgettably tropical getaway in Ambergris Caye, look no further than Ramon's Village Resort! Hidden within a tropical garden on the property, this beachfront and scuba diving resort offers breathless views of the Belize Barrier Reef just steps away from your palm-thatched cabana. Ramon's Village Resort as everything you'll need to enjoy an authentic Belize vacation! Open October 1st. 
Victoria House Resort & Spa is an intimate and luxurious resort and is absolutely perfect for couples looking to just get away from it all, or a place to spend that perfect honeymoon. With the gorgeous beaches just outside your door, it's no wonder many of our guests say that the best part of their trip was, quite simply, the relaxation. Victoria House is located in San Pedro, Ambergris Caye; you can save 50% if you book a stay during the month of October. Open October 1st.
Escape away is a private villa that offers a private tropical stay. Situated on the beachfront of the stunning island of Ambergris Caye, this private villa makes for the perfect stay for those looking to unwind in the sunshine.  The villa has plenty of places to unwind from the 450-foot infinity swimming pool, sun deck with new lounge chairs, a private beach, or private resort size dock featuring a huge gazebo, you can guarantee to find a place to relax. The villa comes with its private chef making for the perfect home away from home. Open October 1st.
With nearly a mile of private shoreline and a limited number of guests at any time, Ray Caye Island Resort is easy to play, explore, and relax in the Belize island lifestyle any way you want. Ray Caye is located 18 miles east of Placencia and is especially suited for a secluded and romantic honeymoon vacation. Come celebrate the art of island living with a year-round climate of sunshine, warm breezes, and clear Caribbean waters. Open October 1st.
The Ellysian – Placencia 
"Where modern chic meets local charm." In the heart of Placencia Village lies The Ellysian, a boutique, and luxury beachfront hotel. Enjoy the serenity and the splendors of a modern stay. Book now and get 30% off of room rates. Open October 1st.
Looking for a place to stay in Belize City? As one of the most recognized names in the Belize Hotel Industry, Best Western Plus Belize Biltmore Plaza is the ideal place to stay in Belize City. Conveniently located just 10 minutes from both the International Airport and the local Belize City Municipal Airport, the hotel is well known for its commitment to high-quality service plus an extensive array of amenities. Open October 1st. 
Whether you're traveling for business or leisure, Radisson Fort George Hotel and Marina is the ideal place to work hard, play harder. The hotel offers a business center to keep you productive, and of course, many onsite activities for you to enjoy and relax. Brew a cup of coffee in the morning, enjoy uninterrupted views of the Caribbean Sea and Belize City coast, then let Radisson handle the rest. Open October 1st. 
With the largest collection of independent resorts in Belize, Muy'Ono Resorts has it all; from beach resorts to jungle lodges to private islands. Alongside a commitment to the local community, environment, people, and culture, each of their eight Belize resorts offers a different, yet unique, experience. The following properties that are open to international guests are:
A contemporary Full-Service Luxury boutique beach resort. The Guest Exclusive Resort on the Placencia Peninsula, exceptionally located on the beach, the closest full-service resort to Placencia Village. An All-Villa resort, infused with local art, Belizean hardwoods, and décor, graced by an exquisite landscape of flora and fauna, inspired by the natural beauty of Belize. Open October 15th. 
Offering exceptional service since 1976, San Ignacio Resort Hotel in Western Belize's only full-service, luxury accommodation in the heart of town. Conveniently located just minutes away from the bustle of San Ignacio's Burns Avenue and Farmers Market, escape urban hustle on their lush grounds, with plenty of on-site activities to discover. Open October 1st. 
Reopening November 2020
Welcome to Las Terrazas: the ritzy resort on Ambergris Caye inviting guests to recharge body and mind at their private seaside refuge. Iconic wooden, over-water swings and white Pueblo Revival architecture are just the beginning. With a 70-foot palm-lined pool as the focal point to indecisively lay in and lay out of at the same time as the centerpiece of the resort, its crisp, 37 high-ceilinged "townhouses" range in size from 1,000 to over 3,000 square feet. Soak in beachy Belize views, which at Las Terrazas, include Pool, Tropical Courtyard or Lagoon views. The sleek, all-white boutique hotel boasts ocean, pool, tropical courtyard or lagoon views; that is, in addition to its open-air lobby, signature O Restaurant, plus on-site spa and wellness center. Reopening November to international guests. 
Enjoy the best of southern comforts with Sirenian Bay, a luxury beachfront resort facing the beachfront of Seine Bight outside Placencia. Choose between one of three luxury villas or a comfortably lush bungalow before exploring the rest of the property, including Inky's 19th Hole, a mini-golf course with a full bar and restaurant! Reopening November 1st to international guests. 
Rivers are magical, and one property in Belize that gives you the chance to simply enjoy their beauty is the Mystic River Resort. Located 7 miles from the twin towns of San Ignacio and Santa Elena, Mystic River gives you the chance to explore all the Cayo District has to offer and return to the incredible serene wilderness at the end of the day. And, the beauty of the Macal River. Reopening November 1st to international guests. 
Planning on vacationing at La Isla Bonita? Try Sunbreeze Belize SunBreeze Hotel, a perfect place to stay in Ambergris Caye to enjoy the San Pedro Sun and ocean breeze! SunBreeze Hotel offers spacious and comfortable seafront accommodations and an array of amenities. Here, enjoy their onsite Dive Center, Restaurant and Bar, Massage Studio, Sun deck pool and gazebo, and much more! Reopening November 5th to international guests. 
If you've decided on visiting San Pedro, let SunBreeze Suites be your choice! This beachfront resort with 21 Ocean Front Suites can be found in the heart of town, within a half-mile of the Belize Barrier Reef. Each suite's private balcony offers sweeping views of the crystalline Caribbean Sea with a laid-back ambiance to match. Reopening November 17th to international guests. 
With beachfront accommodations, The Landings at Tres Cocos, which includes Bermuda Beach and Bermuda Landings, provides vacation rental condominiums to make your Belize vacation truly unforgettable. Located just north of the bridge at the cut, these adjacent properties are less than one mile from San Pedro Town; close enough to restaurants, bars, and shopping yet far enough away to be quiet and relaxing. Reopening early November to international guests. 
Perched atop of the magnificent Five-Sisters Waterfalls in Belize in famed Mountain Pine Ridge Forest Reserve, Gaia Riverlodge will fulfill its promise to reconnect you to your adventurous and truest being by disconnecting you from everything else. Fall asleep to the sounds of a majestic waterfall, and wake up to the beauty of Belize's jungle. Gaia Riverlodge will have you feeling vibrant and connected to the reality of nature more than ever before! Reopening November 21st to international guests. 
A short taxi ride by speedboat from San Pedro's bustling city life brings you to Matachica Resort, one of the most relaxed resorts on island time in Ambergris Caye. Here, a dreamy digital detox reduces your adult-only vacation to just the essentials in Belize. That is a thatched cottage, the glistening Caribbean Sea, and the delicately-pale Belizean beach. Reopening November 21st to international guests.
Tucked away in the ethereal Mountain Pine Ridge Reserve lies Blancaneaux Lodge, a member of the Family Coppola Hideaways. This luxury hideaway resort offers 20 cabanas overlooking the reserve, making it a perfect place to relax and rejuvenate. A nearby waterfall from Privassion Creek tumbles into turquoise pools above the jungle canopy – Belize's simple pleasures. The Family of Coppola Hideaways will reopen all three of their Belize hotels on November 1st to international guests. 
Inspiration comes alive at Ka'ana Resort, a luxe outpost where wandering spirits roam free. Nestled deep in the tropical jungles of the Cayo District, this boutique resort is an oasis of style and culture. Although, its modern amenities and personalized service are guaranteed to please well-seasoned adventurers alike. The name itself – translating to "Heavenly Place" – says it all! Reopening November 1st to international guests. 
We're daydreaming of Southern Belize's Itz'ana Resort where the reef meets the rainforest, and life meets luxury. Named after the Mayan god of day and night, Itz'ana evokes the absolute best of jungle and beach. From its carefully-curated cultural designs to its culinary adventures available on-site, and beyond. Reopening November 1st to international guests. 
Luxury and unspoiled beauty on a white-sandy beach is what you can find at! Turtle Inn houses a number of cottages, villas, and pavilions for you to choose from. Besides, the seafront villa is the most popular as it is just a couple of steps away from the beach. Besides, accommodations are naturally cooled with the sea breeze. Inside, Balinese style decor gives each stay at Turtle Inn such an exotic, relaxing feel right on the Placencia Peninsula! The Family of Coppola Hideaways will reopen all three of their Belize hotels on November 1st to international guests. 
The private island escape of your dreams awaits at Coral Caye! Sheltered behind the world-famous Belize Barrier Reef, Coral Caye is a completely private island; yours alone for a romantic, restorative or adventurous getaway. However, just 25-minutes from Placencia takes you to this Coppola Hideaway's coral-sand shore. Within, eco-conscious but decadent cabanas honor the once-fishing camp's natural, local flavor. The Family of Coppola Hideaways will reopen all three of their Belize hotels on November 1st to international guests. 
Blue Marlin Lodge is a locally-owned island resort atop Belize's Barrier Reef with all-inclusive diving, snorkeling, and fly-fishing adventures at your doorsteps. As a choice off-the-beaten-path destination hosting a few guests at a time, you can relax in nature and enjoy the simple pleasures of life. Enjoy South Water Caye with Blue Marlin Beach Resort as of when it reopens on November 14th to international guests.
Jan's Hotel is 100% locally owned, situated on Hicaco Avenue on the beautiful island of Caye Caulker, Belize. Being a stone throw away from shopping; restaurants; watering holes and the water taxis, Jan's Hotel is an ideal spot for both business clients or families that just want to relax and enjoy it all. Jan's Hotel is considered a "home away from home" where relationships, people, and genuine service make every guest a lifelong friend on Caye Caulker! Reopening November 1st to international guests.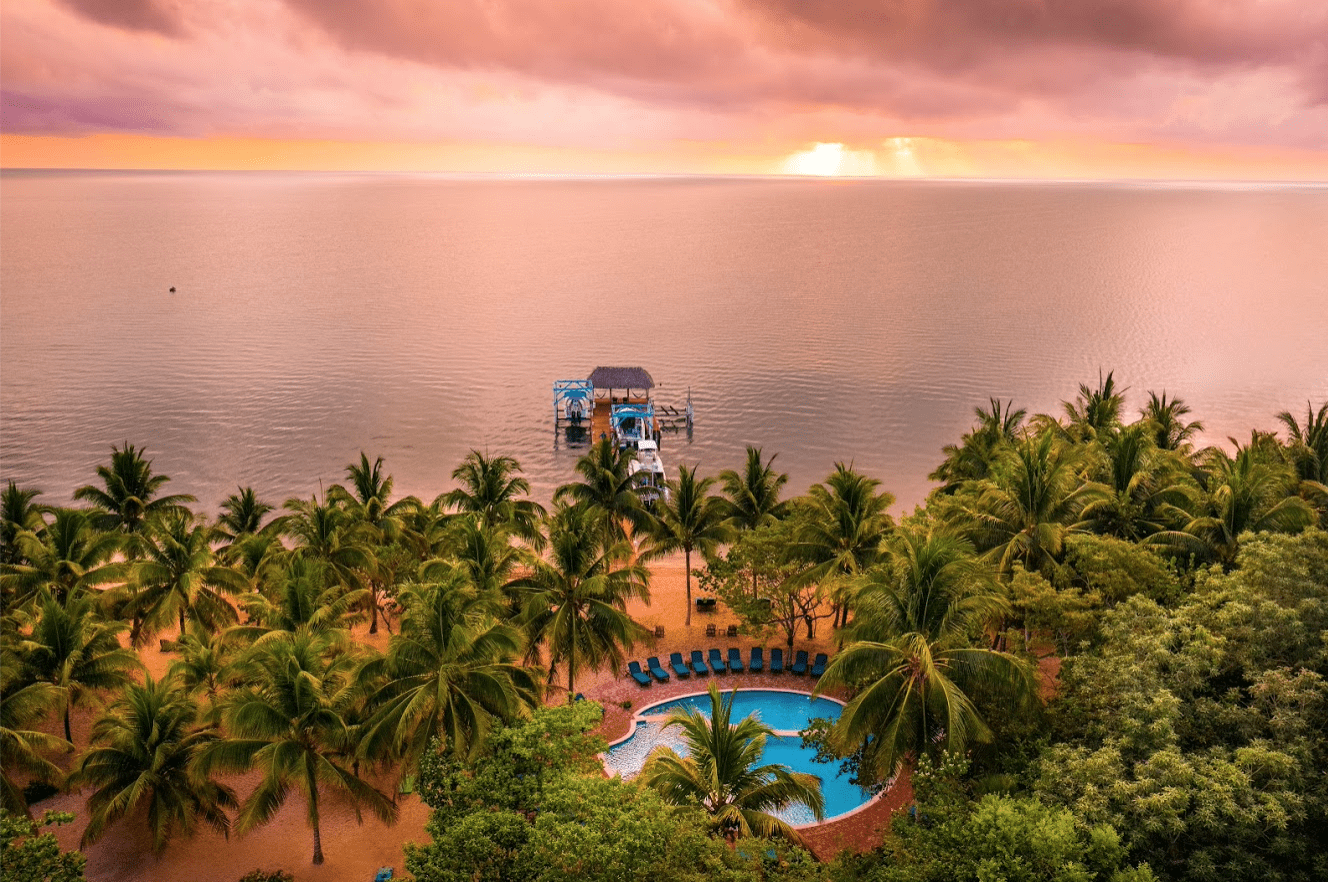 Nestled between the turquoise waters of the Caribbean and the lush Maya Mountains, Hamanasi Adventure & Dive Resort is a secluded, intimate resort in Central America. It is located on the beach south of Hopkins, surrounded by tropical flora, including black orchids. Tree house accommodations are equipped with skylights for stargazing as well as featuring a freshwater pool, complimentary kayaks and bikes. Explore the nearby caves, waterfalls, Mayan pyramids and the only jaguar preserve in the world. The resort also has its own PADI dive facility; besides, divers have prime access to a spectacular underwater world home to whale sharks, eagle rays and manatees. Dining, whether indoors or on the veranda overlooking the sea, includes a menu rich in fresh seafood and international cuisine with a Caribbean twist.
As Belize plans to welcome back travelers as of October 1 in Phase 3 of its Reopening Travel Plan, the BTB has created a "Tourism Gold Standard" Recognition program to enhance hotels for the safety of travelers. This extensive 9-point program elevates the cleaning and workplace policies of hotels and restaurants. Additionally, these Belize hotels will adapt new behaviors and procedures while ensuring minimal impact on the guest experience at reopening.
According to the BTB, travelers will be able to enjoy their Belize vacation while being confident their safety is the hotel's top priority. Meanwhile, guests of Belize can enjoy their Belize vacation inside its Tourism Safe Corridor. The following list of recognized Gold Standard Hotels approved to accept tourists can be found HERE.
For a complete list of where to stay in Belize, visit our Hotel Listings.
All images courtesy of respective properties' websites.