With everything from lush cloud forests to clear, azure seas, wildlife-filled jungles and Mayan ruins, a trip to Central America can be just as laid back or just as adventurous as you'd like it to be. After all, these resorts in Belize are some of the most ideal from which to take it all in. Below, read more on five resorts making 13 of the Best Resorts in Central America list by Trips to Discover.
Owned by Francis Ford Coppola, Blancaneaux is a rainforest lodge in the Mountain Pine Ridge Reserve on a hillside overlooking Privassion Creek. This Central America inspired resort offers spa services in a creek-side area, while the honeymoon cabana features a private deck overlooking a waterfall. Meanwhile if you feel like splurging, the luxury cabana includes a private plunge pool. Explore the jungle on horseback and visit ancient Mayan ruins. Or, just hop into a hammock and watch the hummingbirds buzz around the colorful flora. You can also enjoy dining at two outstanding restaurants; the tree-house-like Montagna Ristorante, serving Italian fare, and the poolside Guatemaltecqua where you can savor authentic Mayan dishes.
Another Francis Ford Coppola retreat, the Turtle Inn is tucked between the jungle and the beach. That is, with a Bali-meets-Caribbean look, including Balinese doorways, private gardens with outdoor showers and Japanese baths. Enjoy sumptuous spa treatments for two at the Sunset Spa after diving with stingrays. Or, enjoy snorkeling with whale sharks near the world's second-largest coral reef. Other options include a canoe trip or four-wheel drive excursion to a cave, paddle boarding, zip-lining and visits to an organic farm. Fresh seafood and traditional Italian fare blend together at the Mare Restaurant. Here, the open-air eatery along the ocean shore features local fish brought in daily from the fertile reefs just offshore, plus fresh vegetables are delivered from the property's organic garden.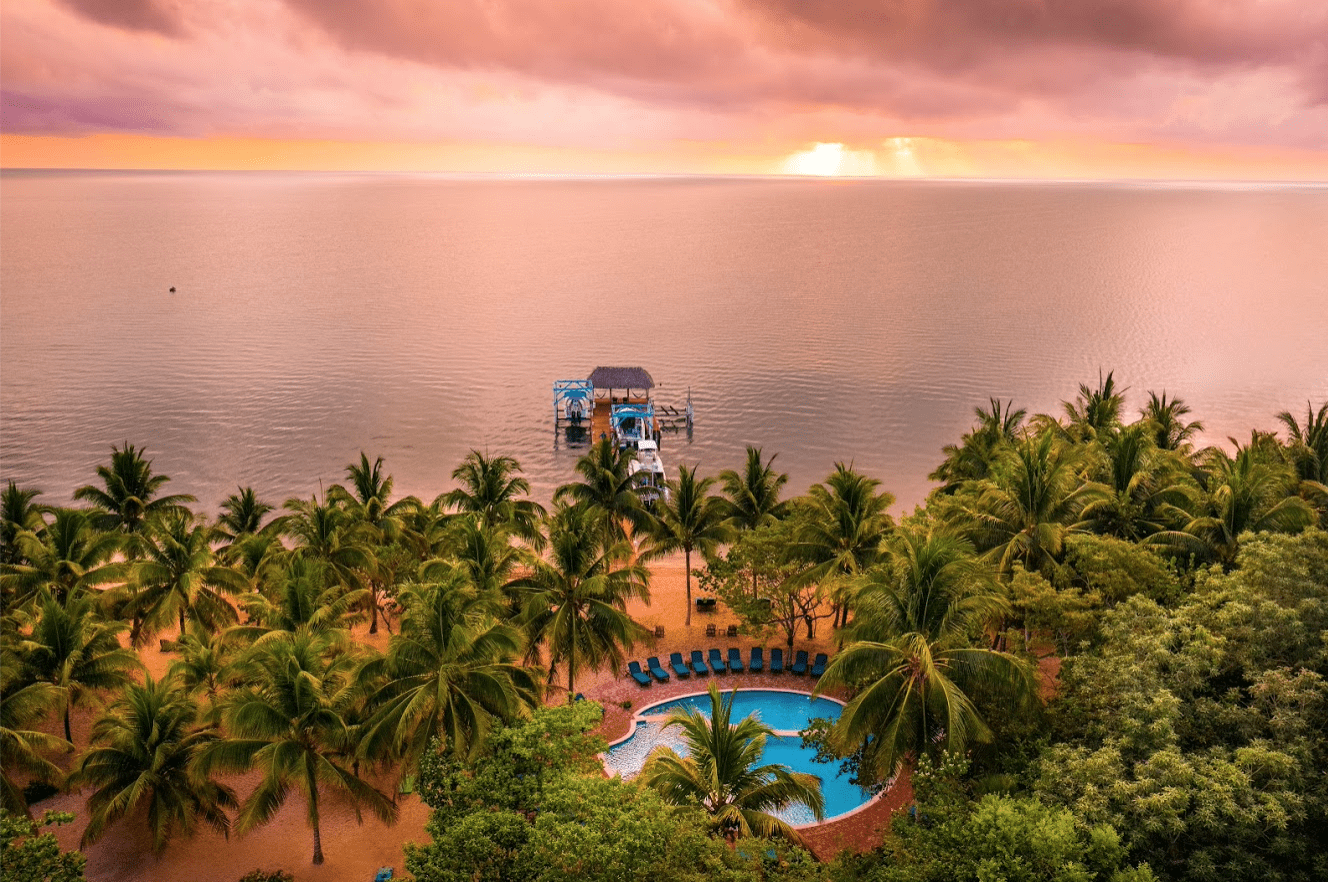 Nestled between the turquoise waters of the Caribbean and the lush Maya Mountains, Hamanasi Adventure & Dive Resort is a secluded, intimate resort in Central America. It is located on the beach south of Hopkins, surrounded by tropical flora, including black orchids. Tree house accommodations are equipped with skylights for stargazing as well as featuring a freshwater pool, complimentary kayaks and bikes. Explore the nearby caves, waterfalls, Mayan pyramids and the only jaguar preserve in the world. The resort also has its own PADI dive facility; besides, divers have prime access to a spectacular underwater world home to whale sharks, eagle rays and manatees. Dining, whether indoors or on the veranda overlooking the sea, includes a menu rich in fresh seafood and international cuisine with a Caribbean twist.
Chaa Creek offers the chance to totally immerse yourself in the Belizean rainforest experience; while taking time out to enjoy the luxuries of professional spa treatments in one of the most spectacular, relaxing settings imaginable. This premiere luxury retreat includes rustic-luxe, thatched-roof cottages with modern amenities. Amenities include an infinity pool with jungle views, all in a riverside setting on a private rainforest reserve. The property also features an incredible array of tours and outdoor activities right onsite; this includes horseback riding, canoeing and bird watching. You can explore Maya temple sites and take a guided tour of the Butterfly Farm, Rainforest Medicine Trail and Natural History Center too. Not to mention, the Chaa Creek Restaurant combines old-fashioned and modern cooking techniques using all sorts of fresh, local produce, creating delicious and original meals.
Cayo Espanto, a tiny four-acre island surrounded by diamond-clear Caribbean waters, is just a short boat ride from Ambergris Caye; offering an idyllic escape to unwind and the ultimate in pampering. Besides, you'll be greeted at the dock by the entire staff, including your own personal divemaster and butler. Paddle the waters in a kayak, do some bonefishing, and, if you stay in the overnight villa, you can stay at the edge of Central America's cerulean waters. Not to mention, enjoy the resort's private infinity plunge pool.