There's something quite special about beach bars. With a cocktail in hand and toes in the sand, they take you to a different place; where you can leave all your worries behind and just have fun. Belize's picture perfect beaches, laid-back culture and eclectic food and drink scene make these beach bars all the more special. So, we rounded up the best beach bars throughout the country, from Ambergris Caye to Placencia. Perfect for sipping on a local Belikin beer, listening to reggae and jumping into the sea to cool down.
Ambergris Caye
Affectionately known as 'La Isla Bonita', Ambergris Caye is a bustling and developed island off the coast of Belize. Adventurers flock here to explore the Barrier Reef, spend their days in the sun and enjoy island life at its best. Besides, island life here includes beach bars. 
The Palapa Bar and Grill is one of those places you'll want to visit again and again. Located at the tip of the Wet Willies Pier, the bar overlooks the beautiful reef. Spend your day floating in inner tubes whilst you get cold drinks served by the bucket. And if you bring your fresh catch with you, they'll cook it for you.
Blue Bayou at Secret Beach
As the first overwater bar & restaurant at Secret Beach, Blue Bayou features views on the west side of San Pedro. Tucked away from the louder bars and restaurants, this is a local favorite at Secret Beach, mainly for the picnic tables partially submerged in the waist-deep, turquoise cove. It's easy to spend an entire day here, throwing back Belikins and feasting on delicious ceviche, whole jerk fish or even curry venison.
Caye Caulker 
The motto here is 'go slow' and once you arrive you'll see why. The beach bars are the epitome of this motto and are super chilled. The classic chill spot? None other than the Lazy Lizard at The Split. 
This iconic beach bar is perched atop Belize's famous Split, where the island divides into two and a waterway runs through it. A favourite for locals and tourists alike, it's known for its potent Green Lizard Juice and fresh fish tacos. Come in the afternoon and stay until sunset. 
Down South in Placencia & Hopkins
However, it's not just Belize's islands that have some of the best bars. Head down South and dotting along the peninsula there are also some great finds in Hopkins & Placencia.
This breezy beach side restaurant & bar in Belize offers local fare with an emphasis on fresh seafood, but it's best known for it's pina coladas. Visit the Rhum Shack for breakfast, lunch or dinner. We're sure you'll find something you like from shrimp ceviche and snapper nachos to the Sunday barbeque!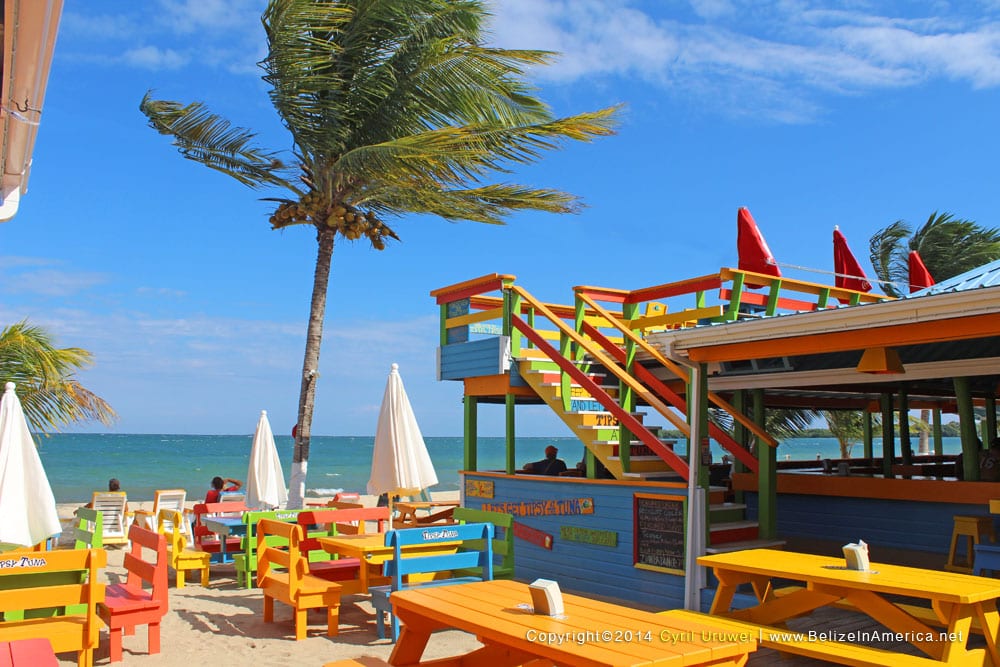 If you're staying in Placencia village, this is a lively beachfront bar to spend an afternoon or night at. There is live music, karaoke, billiards and multiple TVs airing your favorite sports. Not to mention, the drinks are fresh and infused with local ingredients. Sip on a coconut basil mojito or melon mango punch while watching the world go by from your colourful beach chair. 
Happy beach bar hopping in Belize!