The Cascading Beauty of Mountain Pine Ridge
Of all the roads you take, some should be dirt.
The Mountain Pine Ridge Reserve is full of roads and natural trails that are definitely off the beaten path. These rich red clay pathways lead you through a spectacular landscape riddled with awe-inspiring waterfalls. Granite hillsides filled with pristine ravines, rivers, natural pools, picturesque streams, and majestic cascades, are found amongst a carpet of pine trees that have stood the test of time.
Established in 1944, The Mountain Pine Ridge Reserve covers an area of approximately 300 miles. It is the oldest and largest protected forest in the country. Tucked away in the Maya Mountains, it is roughly a 3-hour drive from Belize City. Its remote location makes for an intimate and unspoiled experience.
A Sanctuary of Nature, Adventure and Serenity
Though you may be a distance away from civilization, the accommodations in this reserve can be luxurious. At Hidden Valley Inn, your stay becomes even more exclusive and charming as the property is situated on a 7,000-acre private reserve. It is a natural sanctuary, where serenity and a taste for adventure go hand-in-hand. As the sun rises over the mountain range, and the morning mist glistens on the forest leaves, the chirp and chatter of birds awaken you from your slumber. You are free to choose your private adventure.
Spend the day birdwatching, hiking private nature trails, or mountain bike riding the jagged mountainous terrain. After a morning of activity, head over to Butterfly Falls. Enjoy a cozy jungle picnic and the cascading waterfalls all to yourself. As the cool fresh water flows down from 150 feet above, you can re-energize and refresh yourself before your next adventure begins.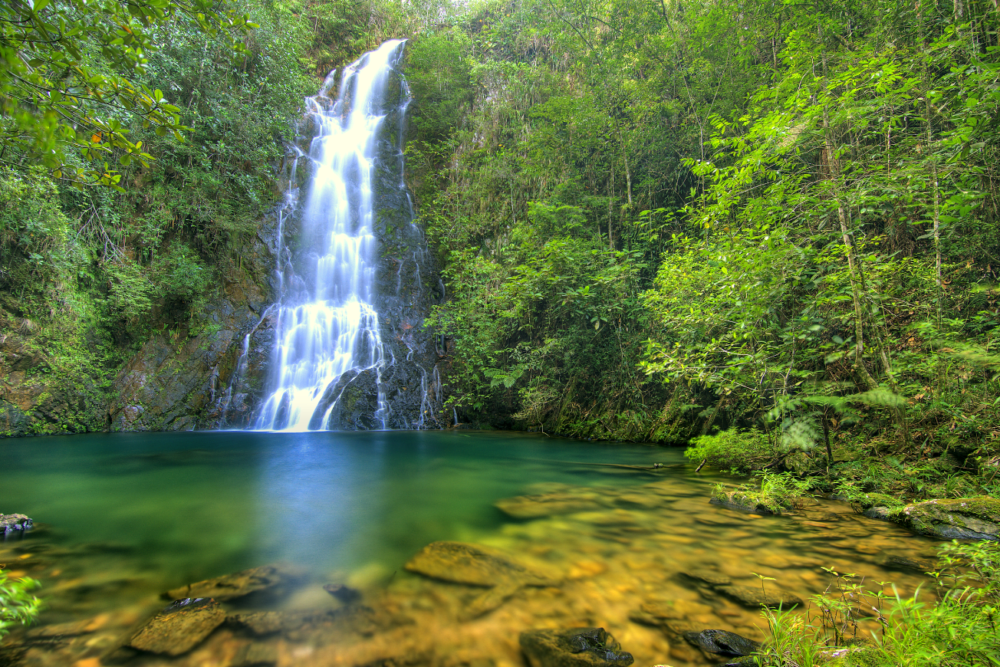 Explore the ancient world of the Maya with a visit to Caracol, or head on over to other natural pools, streams or waterways in the area.
Waterfalls are impressive natural structures, that exemplify the beauty of nature. If you find yourself unsure of where to go next, try these:
1000 Foot Falls
Embrace the viewpoint and enjoy breathtaking views of the highest waterfall in all of Central America.
Rio On Falls and Pools
Uncrowded and unspoiled, large flat rocks with freshwater flowing make for the perfect swimming spot.
Big Rock Falls
Nestled among the forest reserve, this 150-foot waterfall makes for an invigorating and refreshing dip and hang out spot. It requires a short hike, making it a less-trafficked fall.
After a day of adventure, unwind with a tropical cocktail in hand at Hidden Valley Inn and take in the wondrous scenery as the sun sets on the horizon against the pine forest.
A truly magical place, Mountain Pine Ridge Reserve is worth the stray off the beaten path, putting you truly up close with nature.
Similar Articles:
Written by: Louise Roe