For a while now the cruise industry has been flourishing in Belize. With a number of cruise lines beginning to offer cruises passing through Belize; it's allowing our industry to grow slowly but surely each year. Belize is gaining a lot of international exposure and receiving great reviews; some of which comes from the growing amount of cruise passengers who fell in love with this little country. Even though cruise passengers only get one day to experience this country, they definitely make the most of their visit. 
Cruise Lines Travelling to Belize
As of 2019, the cruise lines that have made port in Belize City are Carnival, Celebrity Cruises, Royal Caribbean, Holland America, Princess, Regent Cruises, Norwegian Cruise Lines, Silversea, Oceania, AIDA Cruises, Seabourn, Costa, Marella, Phoenix, Costa, and more. There are about 333 cruise calls to Belize every year.  
Statistics on Cruise Ship Arrivals
The first cruise ship docked in Belize in 1991. Ever since then the rate has been increasing greatly – in 2016, arrivals went from 18.4% in 2015 to 24%. In 2019 there has been an increase of 10.8% more visitors as compared to 2018. 150 ships have docked in Belize for the first quarter of 2019, accounting for approximately 700,000 cruise ship passengers.  
This docking port has recently opened in the Stann Creek District in Southern Belize. However, this port was built by Norwegian Cruise Lines so therefore they only cater to their cruise passengers. Passengers aren't obligated to go to this port as they can book a tour on the mainland and experience the Belizean life. This port is basically an island that features a large pool, zip-lining, water sports, relaxing on the beach, swimming in the sea, experiencing the wildlife and many other adventures.  
Fort Street Tourism Village
This is the first cruise port in Belize, located on North Front Street hence the name "Fort Street". Passengers can take a tender from the ship to shore which takes about fifteen minutes. This little seaside village is colorful and blissfully Belizean as it offers many stores/gift shops, several courtyards, snack bars, and actual bars that serves refreshing local and Caribbean inspired drinks. They have a few local stores with great duty-free shopping. As well there are a number of restaurants and cafes that serve amazing Belizean food and other foods that are inspired from Caribbean and Central American countries.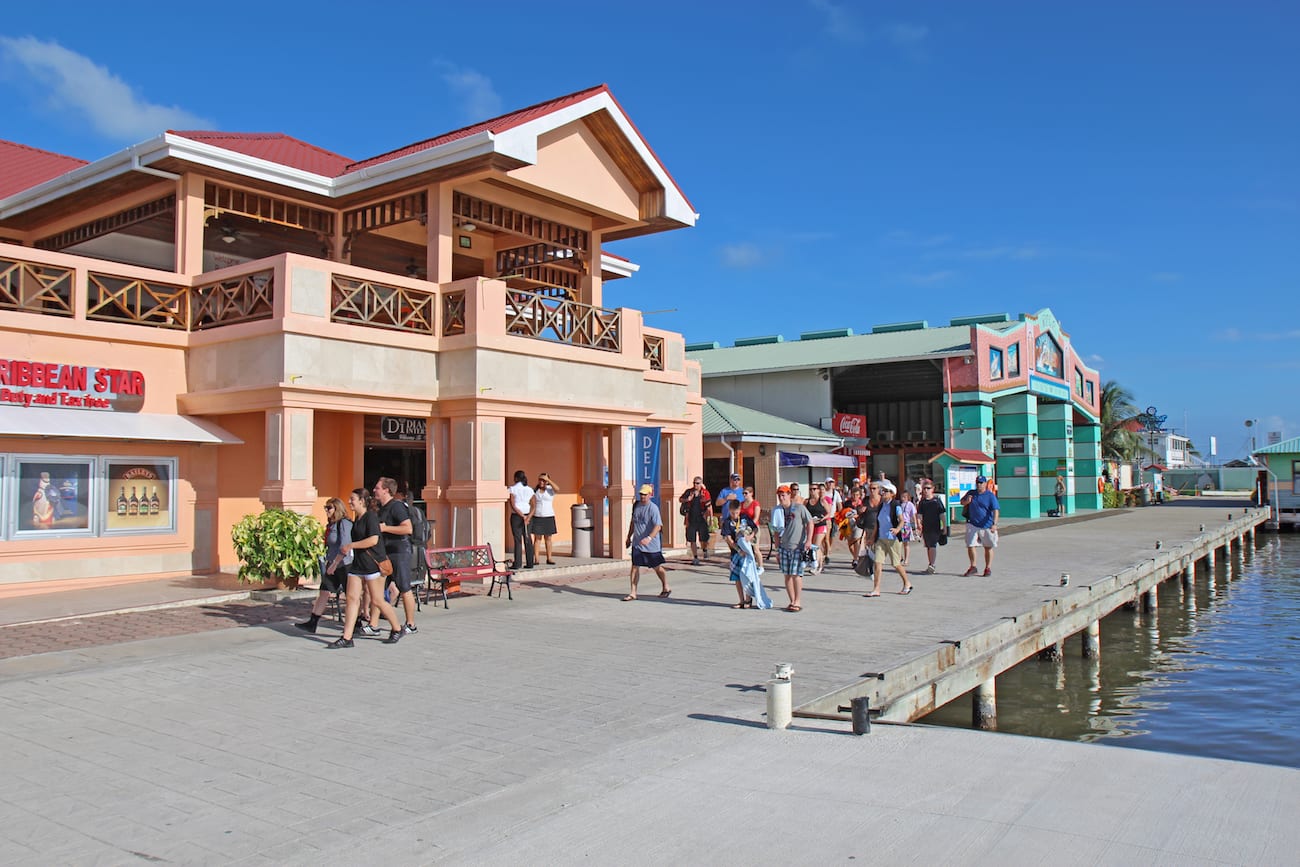 Written by Reyann Garcia