If your family is in desperate need of a change of scenery but you're dreading both the costs of getting your whole family somewhere exotic and coordinating all the details, it's time to stop putting off the planning and instead reconsider how you think about vacations. Sirenian Bay Resort & Villas is redefining boutique resorts, even in 2022, with a model built around the needs of the modern guest in one of the most beautiful geographical regions in the world.
A Tropical Destination Like You've Never Seen
Hiking north up the entirety of the Placencia Peninsula would constitute a 16-mile journey. But traveling east to west, you can touch the beaches of both shores with just a half-mile walk.  The main settlement of Placencia Village still has the vibe of a sleepy fishing town despite offering everything tourists need to explore the Caribbean Sea, the Belize Barrier Reef, and the environmentally rich interior of Belize. The town's Main Street is still just a sidewalk, and golf carts and bicycles are far more common than cars. 
Casual Luxury
Sirenian Bay Resort & Villas embrace that sense of island living whole-heartedly even in 2022, in large part because it's staffed by locals. Luxurious without being ostentatious, Sirenian Bay is all about making your family's personalized vision of the perfect vacation a reality. That might mean venturing out to Maya temples, spending your time playing volleyball and sunbathing on the resort's beach, or venturing out into town to follow a staff member's recommendation for the best seafood in town. There's even a mini-golf course directly on the property. Whatever your sense of family fun is, the staff at Sirenian Bay is happy to deliver.
Stress Less: All-Inclusive or On Your Own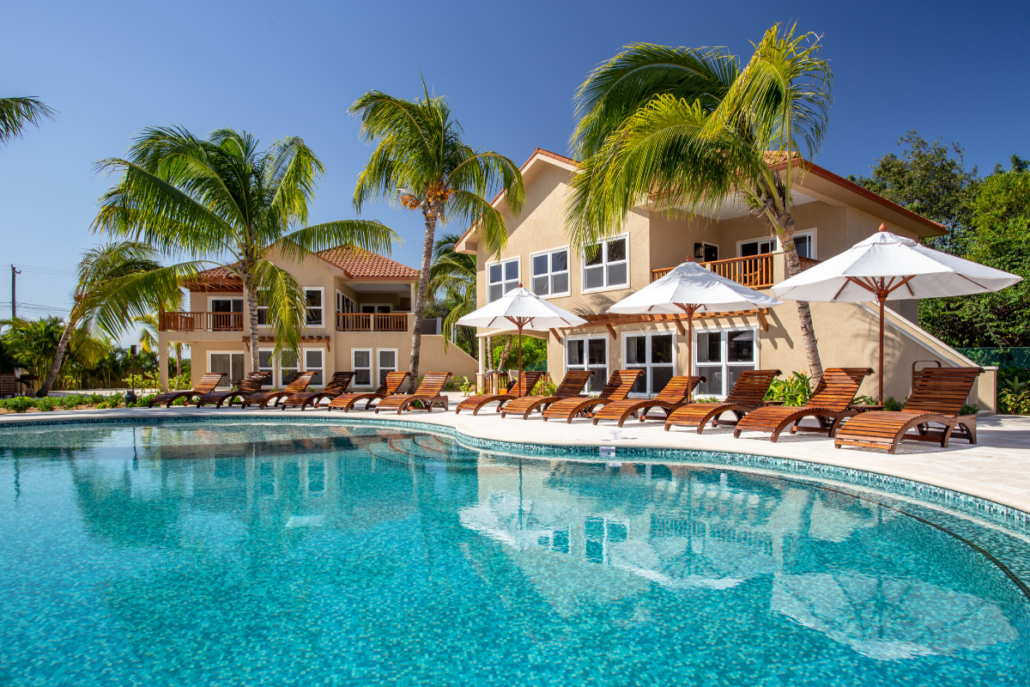 Your idea of family fun probably doesn't involve financial spreadsheets, and that's why Sirenian Bay Resort offers all-inclusive experiences for families. That means your room, access to amenities, food, and beverages are all calculated together in a single flat price. And since direct flights from the United States to Belize are regularly scheduled, you shouldn't have to worry about making needlessly complicated travel complications. Simply grab a connecting flight from Belize City into the Placencia Airstrip. All-inclusive packages even include travel to and from the airstrip. All-inclusive also means access to all of the amenities and a range of beach games and water toys. And for adults who are looking to spice up the experience a little more, you can always upgrade to the premium drink package to include wine, beer, and cocktails in the cost.
A Home Away From Home For Families of Any Size
Families come in countless shapes and sizes, but Sirenian Bay Resort has something for everyone. A dozen bungalows offer a variety of layouts and designs — as well as uniquely beautiful views of the resort — and there are options perfect for everyone from couples to families of six. All-inclusive by design, they give your family easy access to services and amenities along with a genuine sense of privacy and solitude at a price that's very affordable.
But if you're really looking to bring everyone down for an intergenerational family reunion, the villas at Sirenian Bay offer exactly what you're looking for. The Manatee Villa is the most massive of the bunch, offering sleeping space for up to 14 people spread across four and a half bedrooms. Seahorse Villa offers comparatively moderate sleeping accommodations for 10, while the Turtle Villa and Hummingbird Apartment are cozy and more intimate options for smaller families that still offer a step up from the bungalow experience. No matter which villa your family chooses, you can always make your stay all-inclusive, and Sirenian Bay can even provide you with a personal chef for a small uncharge. 
How Sirenian's
Villas and Bungalows That Speak For Themselves in 2022
Sirenian Bay's attentiveness to customer needs and focus on delivering a locally staffed boutique experience has been earning the attention of some of the biggest travel publications. Sirenian Bay won in the luxury boutique resort category at the World Luxury Hotel Awards and was highlighted in 2021 best-of lists from both Conde Nast Traveler and TripAdvisor. This 2022, find out for yourself why Sirenian Bay's bungalows and villas are getting so much praise.