It's no secret that Belize is a place of discovery. Whether you're looking for adventure or a laidback setting, Belize is the place to be. The little country has a ton to offer. Many people travel to Belize for the breathtaking beaches and waters, or for the beautiful landscapes and lush greenery; but did you know that there's also much exploring to do in Belize City? We've compiled a list of a few things you must do while in Belize City. Take a look! 
Located approximately 29 miles west of Belize City on the Western Highway, The Belize Zoo (TBZ) is home to more than 175 animals of about 48 species, all native to Belize. A visit to The Belize Zoo is the best way to get an introduction to the animals of Belize and to understand why it is important to protect the habitats that sustain them.
A charming national museum awaits you on the compound of the Central Bank of Belize. The Museum of Belize (MOB) is dedicated to a historical tour through its photographs and fascinating artifacts, which document over 300 years of its people and culture, giving its visitors a lot to learn.
An hour northward out of Belize City rises the majestic beauty of the Maya ceremonial center called Altun Ha (Rockstone Pond). It is thought by some that Altun Ha served as a manufacturing hub for the trade of precious stones, specifically jade. Tours from Belize City are easy to organize so if you're in Belize, don't miss the opportunity to visit one of Belize's most important ancient cities.
The  Community Baboon Sanctuary 
There's no better way to experience and explore the wonders of a Belizean rainforest than visiting The Community Baboon Sanctuary (CBS). Interact with nature and get up close and personal with Black Howler Monkeys (locally known as Baboon) that reside in this area. Onsite there is also a museum and visitor's center for environmental education and activities.
Kukumba (Cucumber) Beach is a little slice of paradise that resides on a patch of the coast of Belize City at Old Belize. Moreover, it's the perfect place to have fun and soak up some sun. Rising 50 feet from the heart of Kukumba Beach is the 90-foot-long water slide that will have you screaming in delight as you tunnel your way into the Caribbean Sea. There's also a beach bar, the Wata Hole, that serves a variety of tasty tropical cocktails!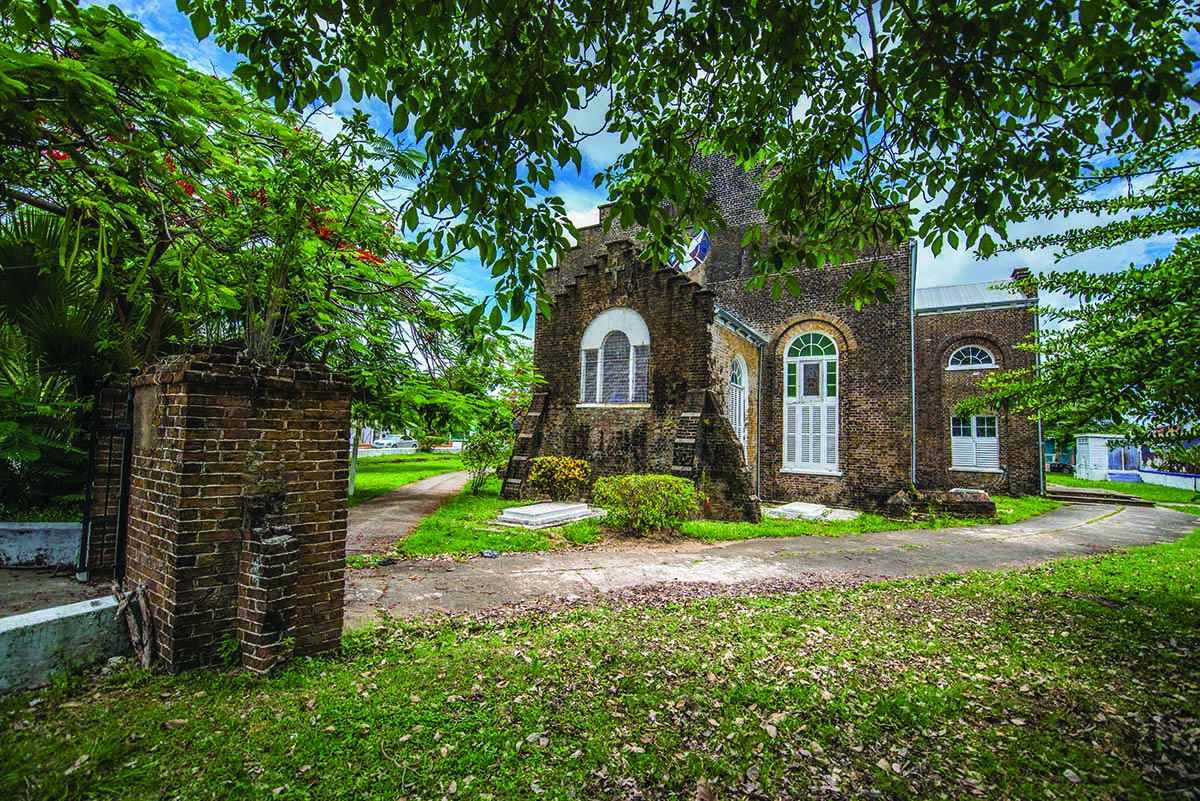 The oldest church in Belize, St. John's Cathedral is one of the most amazing structures ever constructed. The exterior of the church is composed of bricks that were used as ballast aboard British ships. The building took 8 years to complete; visitors can find many original architectural touches including intricate stained glass windows, ornate mahogany pews, and an antique organ.
There are a massive variety of birding hotspots and regionally endemic species found throughout Belize. The wetlands of Crooked Tree Wildlife Sanctuary are a birdwatcher's dream. There are over 330 different species located in this area, allowing you to truly enjoy the birdwatching experience.
Taste local Belizean food favorites
Many are aware that Belize is known to be a 'melting pot' due to its diversity. Certainly, Belize cuisines are simply like no other. They reflect the country's culture and rich history. Ask any Belizean what are the top food recommendations and no doubt you will hear "Meat Pies" and "Rice and Beans" on the list. Meat pies are a breakfast favorite. They are hand pies stuffed with chicken or beef, and sometimes veggies. The rice and beans dish is served with some kind of meat such as stew chicken, fish, beef, or gibnut. It is accompanied by fried plantains, potato salad, and onion sauce. Both of these favorites are to die for!!
No matter where you go, how far you go, or for how long you go, there's an undeniable charm about Belize City that keeps you coming back for more exploring!
Written by Vivian Lizarraga
Similar Articles:
Birds in Sight
Belize Districts
To and around Belize