The term 'safecations' took root during the pandemic, but resort buyouts have been nothing new for deep-pocketed travelers. Super-private, luxe, and all-to-yourself, a resort buyout means free rein over the hotel property for lavish weddings, glitzy Hollywood-style events, corporate retreats, or extra-large family reunions. It's exclusive use at a premium, but it's especially for guests looking to vacation without other travelers. Hang on to your chairs: the award-winning beachfront Victoria House Resort & Spa, Belize on the largest of the offshore Belizean islands, Ambergris Caye, has just announced an exclusive buyout package for $230K.
Replete with welcome cocktails, live music, carefully crafted F&B experiences, spa treatments, a sunset sail, private yoga sessions, and a curated setting for private events, the 4-night buyout package is ideal for reunions amongst family and friends, destination events, executive corporate retreats, celebrations, and full immersion in Belize's island life.
What An Award-Winning Exclusive Stay Looks Like
With 42 guest rooms ranging from thatch-roof casitas to beachfront villas complete with private pools, this resort—one of Belize's pioneers in hospitality—offers a package as grand as its buyout offer. Think about it: luxury accommodations for everyone, three distinct culinary establishments, full use of the fitness center, and a private stretch of sand for Instagram-ready jaw-dropping selfies to keep you dreaming of the Caribbean weeks after the trip is over. That should be enough for all 90 people the resort can lodge, but there's also a world-class spa, access to the world's second-largest barrier reef for prime snorkeling and diving, and hosted events throughout the 4-night stay.
"Many of today's travelers are craving immersive experiences in exotic destinations while enjoying more privacy, personalization, and control," said Victoria House Resort & Spa General Manager, Janet Woollam. The concepts are creative, and the sky is the limit. Newlyweds can toast champagne on a boat for breakfast, or dad can celebrate his 70th birthday with a BBQ dinner and sunset for him and his closest loved ones.
"This is the ideal choice for travelers who want to enjoy unfettered access to a beautiful property in a bucket-list destination."
"Designed to deliver a luxurious 'home away from home' experience, our exclusive buyout package is the ultimate escape, bringing people together to enjoy the best of Belize in an intimate environment," Woollam continues.  But the one feature that makes a buyout at Victoria House Resort & Spa especially meaningful for events is the curated service of a fully staffed resort with all amenities, delivering experiences of a lifetime.
A Once-In-A-Lifetime Experience
Travelers arrive in San Pedro, Ambergris Caye by puddle jumper with Tropic Air Belize, where your private transfer awaits to whisk you away 2 miles south of town onto the resort's idyllic beachfront location on the Caribbean Sea. And nothing says welcome like a signature cocktail and a bottle of Veuve Clicquot in waiting in the room. Live guitar music by local luthier and guitarist Dale Wallace will set the tone for the luxurious 4-night stay, with a 3-hour reception featuring hors d'oeuvres, cocktails, and a full bar.
A Taste of Belize 
Victoria House Resort & Spa is renowned for quenching guests' thirsts with Caribbean-inspired cocktails and preparing fresh, high-quality seafood with a local twist. But holiday enthusiasts will revel in the stronghold of the Caribbean: rum.
The award-winning Travellers Liquors give buyout guests an insider's look at rum-making history and a sampling of different flavors of the favorite tropical drink. For guests who desire a food and beverage experience at sea, a sunset sail can be arranged with cocktails and appetizers for 20-40 people.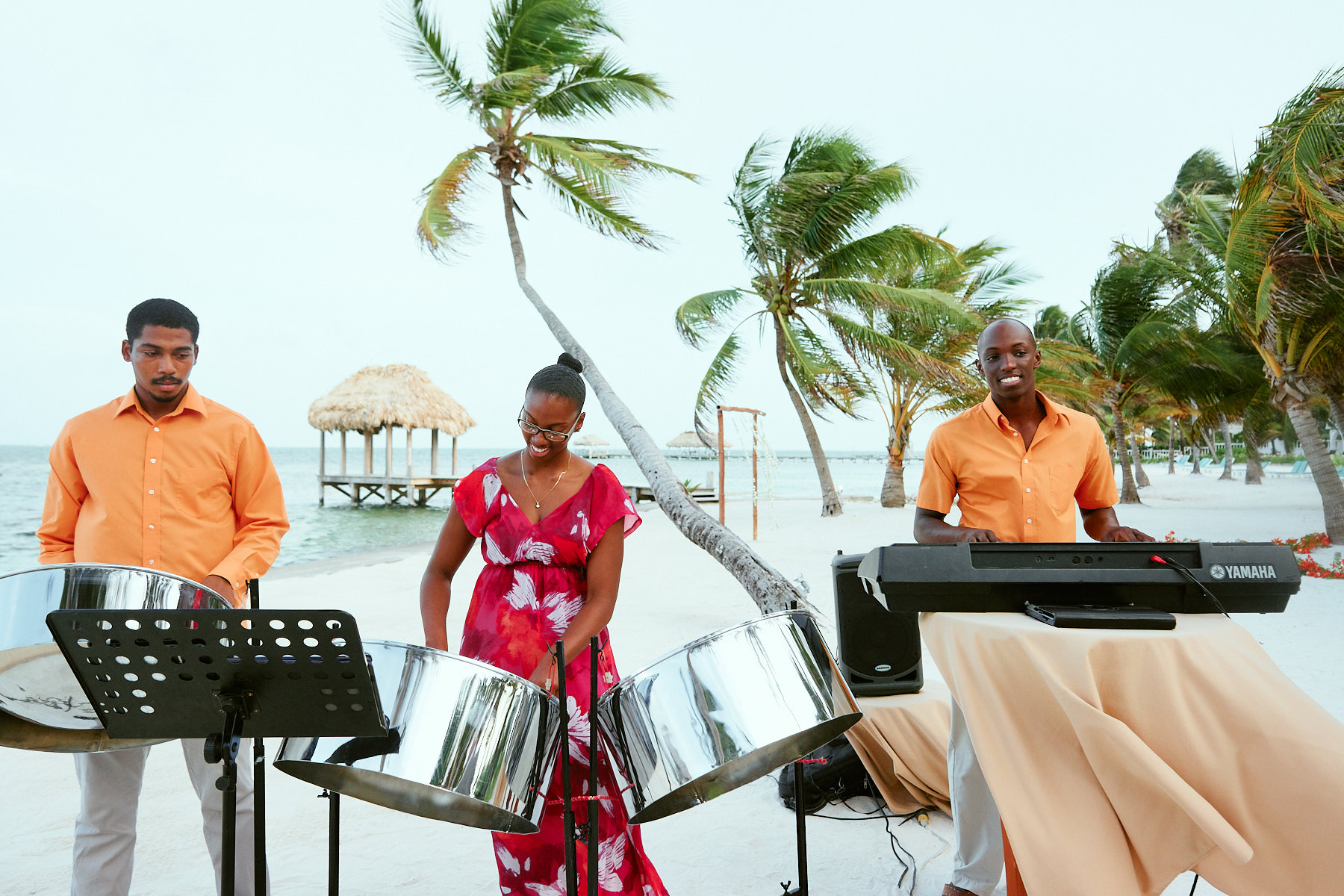 The package also includes a festive paella party in which generous servings of the hearty rice dish – brimming with fresh, delicious seafood – will be served to 65-80 people on the beach. Tropical sounds of a live steel band and an option that makes a hospitality tent, event flowers, and décor available for large group celebrations will keep the palate happy way into the wee hours.
VIP Access to Wellness & Adventure Experiences
For those who seek the utmost in relaxation, Victoria House Resort & Spa features four treatment salons at its spa and fitness facility, which is styled in a Caribbean colonial theme and set amongst coconut palms, creating a place to rest, recharge, and be pampered.
One relaxing back massage or rejuvenating facial per person is available for groups who take advantage of the buyout package. Morning yoga sessions in a peaceful, enclosed courtyard are also available, with an option for a combination of yoga and water aerobics.
Not to mention, Victoria House Resort & Spa is versed in offering the perfect blend of total relaxation and exciting adventures.
When it comes to activities, there are oodles to do: Snorkeling, fishing, and deep-sea diving are rites of passage in these parts of Ambergris Caye, as are eco-adventures on the mainland for those waiting to rack up their daredevil points with ziplining, waterfall rappelling, and conquering climbs of ancient Maya temples.
In addition to activities such as bicycling, kayaking, paddle boarding, snorkeling, and fishing, guests can explore nearby ancient Mayan temples, go zip-lining over jungle canopies teeming with adorable Black Howler Monkeys, join a rainforest expedition, or visit the UNESCO World Heritage-attested barrier reef for an extraordinary diving experience.
Buyout package guests will receive a complimentary adventure pass redeemable for a diving activity, fishing or snorkeling experience, or guided tour of Mayan Ruins.
Extravagance Awaits In Belize
It's totally bespoke at Victoria House Resort & Spa, giving you free rein over planning the GOAT trip of your (group) dreams. Beaches are bright white, sunsets are golden, and staff—like family. Discover why Victoria House runs on accolades from international media and awards from prestigious organizations such as Conde Nast Traveler and Conde Nast Johansens with the extravagant 4-night buyout package. Learn more here.