Reporters at the Wall Street Journal were curious about whether or not Covid-19 was likely to change the dynamic of aging and retirement in the U.S. and one of the most fascinating interviews journalists conducted was with Laura Carstensen, director of Stanford University's Center on Longevity. She predicts that the pandemic is "going to make people rethink retirement altogether."
Are her words more than opinion? That depends upon where you stand at the moment personally, and how much the virus has impacted your plans. For seniors contemplating retirement before the world literally shut down, perspectives and long-term planning have been upended.
Even conservative seniors say they aren't necessarily of the same mind as they were two years ago. "We want more control over what we do with our time," much say, and there's a growing number of seniors who want to keep working longer but they're fed up with rising taxes, urban life stressors, and politics. They want to have more fun!
Welcome to the growing universes of seniors who are strongly considering moving abroad. Covid has helped convince seniors that they want to live more meaningful lives and as a direct result, the already-dynamic movement of North Americans to Belize is expected to accelerate as seniors learn about what awaits them if they settle down there.
"It's the best decision you'll ever make," enthused one Belize expat who made the move and wish she had done it sooner because the relocation gave her exactly what she craved: Quality of life. Should you follow their lead? The answer is yes, and this shortlist will convince you that your instincts are correct.
Read more about Real Estate here!
Everyone speaks English…
…and expats need only prove a consistent income of $24K annually to meet criteria for the nations Qualified Retirement Program, available to people who have yet to reach 45. In Belize, that's retirement age! Further, while Belize isn't the cheapest place to settle down, it runs rings around what retirees are spending in the U.S. on living expenses and since Belize's currency exchange rate can be understood by 6-year-olds, you don't have to convert U.S. dollars to Belizean dollars if you prefer not to. For northerners whose heating and other wintry bills are daunting, the move to Belize makes even more sense.
You can afford a house on the beach
Build it yourself after buying an oceanfront lot or purchase a turnkey home just about anywhere within the nation's boundaries for a modest amount of money that will leave your friends and relatives in awe of your wisdom to relocate. You can live a great life on $1500 a month in Belize, especially since real estate taxes for Americans are so low. By the way, you retain property rights if you decide to buy and the legalities surrounding real estate purchases are all based on British law.
Take the Lodge at Jaguar Reef's condos under Sand & Stone Realty: these 2 Bed, 2 Bath Condos represent the next step in experiencing resort-style living in the culturally vibrant, fishing community of Hopkins Village. Condos come in two options with the larger condo option offering 1,450 sq ft of living space and a secluded master garden with an outdoor shower. The second option provides 1,150 sq ft of living space with your very own private plunge pool on your sea view balcony.
Your health is likely to improve
An endless supply of fresh fruits and veggies harvested from nearby farms, freshly-caught seafood supplied by Belize fisherman and products from the dairy farms of Mennonites who have settled happily in Belize can re-introduce you to the taste of foods that aren't loaded with chemicals, pesticides and preservatives. Show up at fresh food markets and forget supermarket produce. Year-round sun and enough rain to keep things growing year-round plus some of the cleanest air you've breathed all contribute to good health.
You couldn't get bored in Belize if you tried
Belize is an unspoiled wonderland of trees, flowers, orchids, animals, birds, tropical fish, butterflies and wildlife that can only be described as stunning. From manatees to the world's only jaguar reserve, Belize is home to the loudest monkeys on the planet and a spectacular number of bird species have earned the nation the unofficial title of Bird Capital of Central America. Explore 900+ Maya ruins and caves, learn to drum from Garifuna musicians, sun on the best beaches in the hemisphere and if your list of retirement perks includes culinary adventures and clubbing, you'll be in heaven.
You'll make immediate friends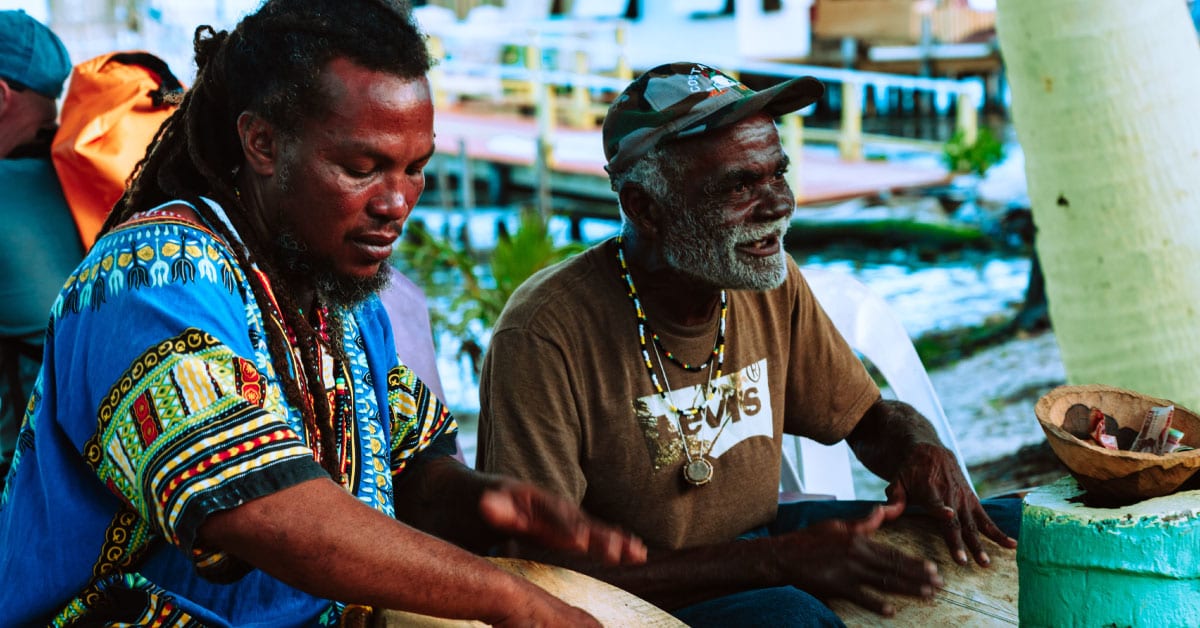 For shy retirees who worry that leaving home will cut them off from the community roots that sustain them, newcomers make friends the moment they arrive. The number of American ex-pats currently living in Belize has grown so dramatically, newcomers say they find themselves busier than they were back home, a direct result of establishing social ties so quickly. As for making friends with Belizeans, there's a reason native-born residents are frequently called the friendliest people on Earth.
You can make a fresh start effortlessly
The concept of reinvention isn't unique to North America. Fresh starts are possible and probable, especially if you became enlightened during the pandemic and are eager to follow the road less traveled that you've craved but ignored while you were going about building a family and career. Move to Belize and you'll be able to reinvent yourself in ways that you've only dreamed about. Launch a business. Adopt a hobby. Join groups and organizations comprised of like-minded people. Manage your stock portfolio more carefully now that you've time to speculate.
Get in touch with an agent, like The James Group or Vista Real Estate, here. 
Because you won't have to master a foreign language, figure out the currency or understand the nuances of buying a home, you'll have loads of time to do what you want to do. If that happens to include sleeping late every day of the week or writing the book you have been talking about for ages, nothing is stopping you from the moment you arrive, so what are you waiting for? 
Belize features pristine beaches of the Caribbean Sea and provides access to living immersed in Belizean authenticity. The country is also an up-and-coming investment and vacation destination, which is now more affordable, safe, and convenient than ever. Not to mention, Belize is the ideal low-key destination with space, privacy, and seclusion. Ready to make your move? Find your space with a local real estate agency like Vista.