When we think of travel, we think of absorbing the world outside our own. Our five senses are heightened as the need to consume everything around us multiplies ten-fold. Life in travel has always been a roaring cacophony of experiences—a hurried pursuit to cross off as much of our bucket list as possible. And after decades, we eventually realized what our loud living was doing to our Earth.
This sort of traveling left behind a worn-out world due to over tourism. Ignited by the prominence of sustainable travel, many began attempting to travel more consciously. But good intentions aren't always enough, and sometimes we need to be forced to slow down.
The content marketing agency GLP Films was the first to write about the age-old adage that silence is golden in a traveling world. It seemed many ecosystems thrive in a noiseless environment, a fact not many had noticed in a "last chance tourism" era. But the benefits of sitting in silence were shown to have monumental benefits, for both the environment and the traveler. Particularly, at one not-so-hidden gem in Central America.
Sitting In Silence In Belize
With a low population density and a high percentage of forest cover, Belize is no stranger to pockets of peace. Long before the pandemic, Belize's lack of popularity was its strong suit—a place known for quietude, with a plethora of tranquil experiences at your disposal. In a last-chance tourism landscape among Instagram-driven itineraries tarnishing pristine sights, Belize welcomed travelers searching for, well, themselves.
And they found it.
While bird watching deep in the Chiquibul Reserve, sitting atop canoes along a mangrove-thriving river, and snorkeling beneath the surface on the Caribbean Sea. What all these experiences in Belize have in common is the total decentralization of humans. Many of these nature-based tours work only in silence. Like spotting manatees—success means ensuring the boat engine is completely off. But while spotting wildlife in its natural habitat is a worthy venture in itself, there is something deeper at work within the gift of silence.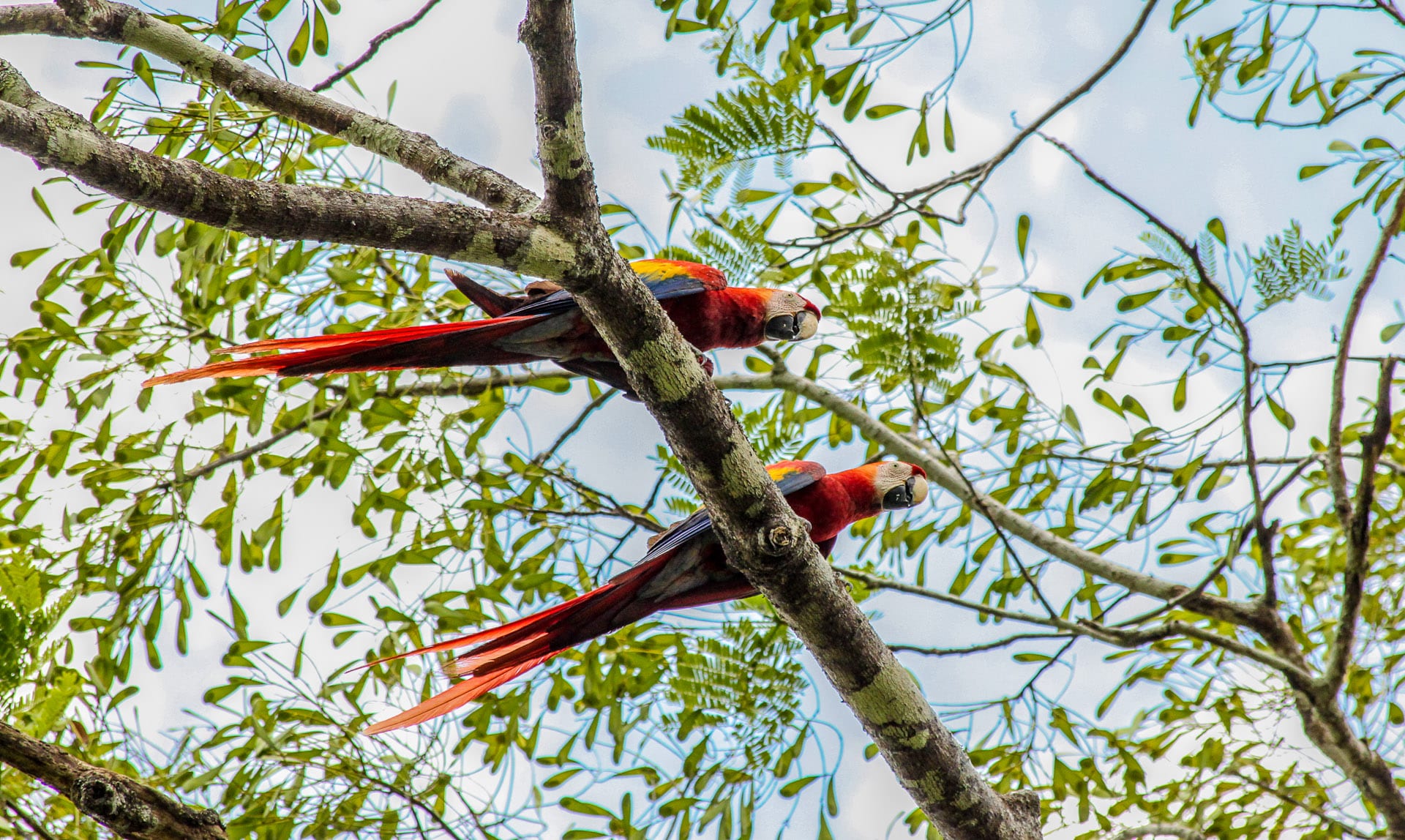 The global concept of deep travel was first introduced in 2010 by Tony Hiss in his book In Motion: The Experience of Travel. Within, feeling interconnected and present to "broaden everyday life" was the basis of deep travel. It's having an "aha" moment when the worries of the world fall away—when it's only you and that heightened state of being. For many avid travelers, this is the reason they travel. In an era where instant gratification and constant stimuli exist, the concept may seem unattainable, but it's closer than you think. Deep in the woods of Red Bank Village in southern Belize, a group of determined birders waits with bated breath to welcome the break of dawn.
Red Bank is known to be the Scarlet Macaw capital of the country, and yet, one erratic move could blow the birders' cover. But to outsiders, how can this high-effort hobby of just watching birds be gratifying? The acts of standing still, focusing on something else other than yourself, and having patience work wonders for the psyche. Your state of being is not jam- packed with thoughts of tours, itineraries, or deadlines. Out here in the forests of Belize, your mind takes a break—one for which your body is thankful—and you come to appreciate the attractions for what they are: a privilege of beauty. Once you come to terms with the fact that some experiences should never be rushed, or worse, polluted with noise, you'll be open to the idea of traveling regeneratively, and in silence.
The Best Impact Is No Impact At All
On the topic of regenerative travel—to leave a place better than you found it—there are still times when doing absolutely nothing counts. Sure, befriending locals, staying in eco-first hotels, and volunteer tourism all create a lasting impact on a destination. But when it comes to nature-based experiences, I'd like to argue the best impact is creating no impact at all. At least, not while you're there in the flesh. Out here, it's truly better to leave the sites just as you found them: sans footprint, litter, and noise. Mother Earth housed umpteenth species millennia before us, and she will continue after us. It's time we recognized the best way to help our green Earth thrive is by leaving no trace behind — a familiar yet under-practiced concept.
Wildlife retook metropolises back during the worldwide shutdown and reminded us that it's their home, too. For too long we have been at the center of consumption, carving our mark, and it's high time for us to sit back, stay quiet and listen. Listen to the faint calling of an Orange-breasted Falcon in Mountain Pine Ridge; to the happy shrills of dolphins off Placencia's coast; to the deep rumbling of hooves when riding horseback to Xunantunich. And who knows? We may even hear a symphony orchestrating its way out of our hearts in response.