Ahh, the destination wedding. A ceremony and honeymoon all balled up in one amorous amalgamation, perfect for travel-loving couples. Or, for simply beach-starved city folks that picture their forever-ever-after starting barefoot to the sounds of the shore break. Not to say there won't be any stress attached to trying to plan from thousands of miles away, but herein lies the beauty of your team on the ground; in this case, it's from Belize. Less planning, more choosing: your wedding planner, which comes attached to most elopement and destination packages at a resort, lets you decide all the details you've always pictured, from bouquet to menu to sand-colored napkins and Caribbean-blue table runners. But before that, let's start with a few of your own if you're destined for a destination wedding.
Ok, you've decided on Belize. Now what?
Imaginably, Belize was a part of your relationship for at least one baecation. Perhaps you proposed here. Maybe it's always been on your Pinterest board, but you've never stepped foot in Belize. All you know? You're exchanging vows in its tropical setting and preferably, seaside on a beach. But how many guests would you like to have? Would you like to have your wedding on the resort grounds where you're staying? Is it adults-only? Does the budget allow for a full buy-out of the resort for ultimate privacy?
Like most things in this life, budget affects your decision. But, there are ways to get around some of the other things you're envisioning, without an additional cost for that premium. Take Chabil Mar in Placencia, Belize: its seafront property, whose name actually translates in Maya to "beautiful sea," is a guest-exclusive all-villa resort on the Peninsula. Besides ticking off the ideal location, you're also getting extra privacy with a place like Chabil Mar—only guests can enjoy 400 feet of private beach, a private pier, two infinity beachfront pools, and the entire grounds that drip in tropical flora. And if your guests all fill up Chabil Mar, it's practically a resort buyout.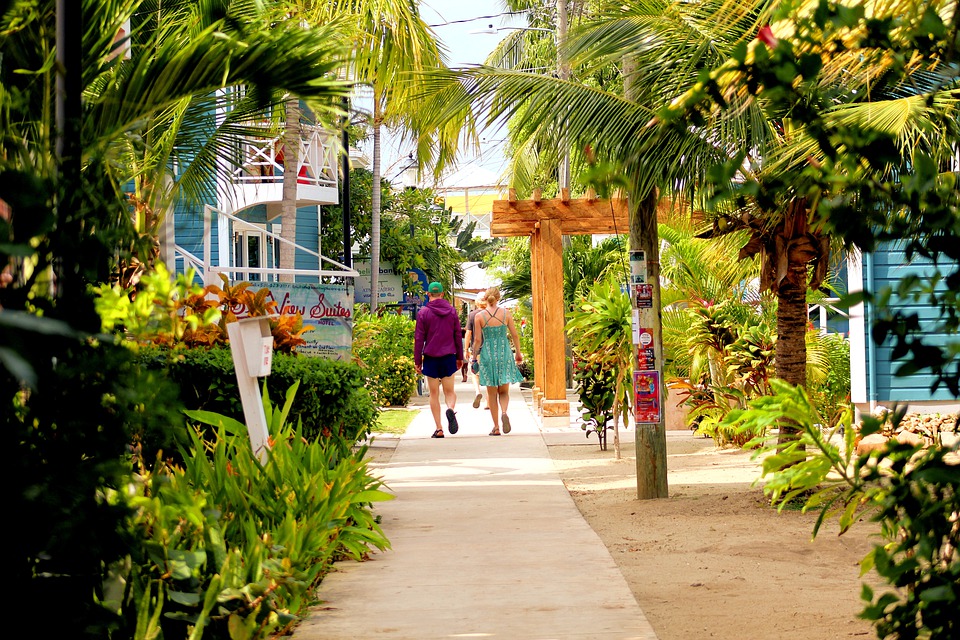 Placencia itself is a holiday strip, beautifully disguised in the form of a 19-mile-long peninsula, that culminates at the pointe with its namesake village. Poking out in Southern Belize, the fishing-focused settlements have merged with a touch of tourism without ever compromising its laid-back Southern hospitality. All its lodging options are either boutique resorts or bed & breakfasts (there are no large-scale or branded properties here).
View this post on Instagram
The village acts as the activity hub, but everything else is but a short drive by golf cart away. It's the only strip of beach you can drive to in Belize, and its soft, sugar-like textures have been called "perfect for peace and quiet" by Lonely Planet. At Chabil Mar, you (and your wedding party) would have twenty-one sea-facing villas, between 925 & 2000 sq ft., + a personal veranda and hammock to choose from.
Ok, Chabil Mar it is. What's next?
Truthfully, not that much. You pick Chabil Mar's destination wedding package—starting at US$2,750—including a wedding planner, custom decor of arch and aisle, tropical bridal bouquet and boutonniere, a bottle of champagne, a wedding cake, wedding license application and processing, the minister's free, marriage registration, a certified copy of the marriage certificate, and a photographer for two hours. And because it's a vacation at the end of the day, Chabil Mar also throws in a private romantic dinner on the pier and transfers roundtrip from the Placencia airport.
Intimate enough for the destination wedding you've both been waiting for, yet large enough to celebrate alongside your family and friends in an all-inclusive atmosphere, 'I Do' starts with saying yes to Chabil Mar's wedding package here.