Coffee is served as early as 6:30 am at the Lionfish Bar & Grill which means I can indulgently gaze out (and people watch) before breakfast. Sipping slowly, I squint without my glasses to scan the skyline before my eyes eventually land on the helipad dock. One partner sunbathes while the other casts their fly-fishing line from the pier, and my mind drifts: which A-lister could potentially join us on the island today? What if a chopper suddenly comes into focus? After all, the international airport is just an hour away by helicopter flight, and that's the beauty of Ray Caye Island Resort: you're entirely on your own terms with a private island in Belize. Our CCL team arrived by boat from Placencia, but the hour's journey felt more like we were floating; the promise of peace and quiet was just within reach, and that was enough to melt the minutes.
View this post on Instagram
Fit for A-list celebrities — 'Insecure' Star Amanda Seales and The Bucket List Family springs to mind — and my fellow Belize residents thanks to a year-round local rate, this eco-friendly private island is a playground for all. This refurbished enclave reopened in 2020 with six new rooms in the main lodge, previously known as Hatchet Caye, and two new villas dotting a mile of secluded shoreline in the remote Silk Cayes Marine Reserve. But, we'll get to that. Short but sweet, here's how our team spent three incredible days on Ray Caye.
Day 1: Island Arrival
Luckily, there are closer-to-home ways to take an off-the-grid vacation, and far more than a handful can be found in Belize. Captain William says all aboard, and Ray Caye's staff whisked us away onto Lady Danielle. The boat only runs once a day from the mainland, usually in the afternoon at a time that's convenient for all guests. Everyone arrives early at the dock at Orchid Ray Marina? The team wastes no time hitting the waters.
We're first greeted by drinks for a sweet welcome, then given a short tour of the island: from the brick-red pathway, Cynthia leads us past the gift shop full of local goodies (including photo prints from staff) and lobby that's made for lounging (with extra books to match) towards the airy Lionfish Grill. Its entrance has a blackboard with our names on it, and Cynthia explains that the very same board transforms into the nightly menu by dusk.
We double back to settle in, passing the organic greenhouse and onsite wellness center (which hosts both a gym and yoga studio, by the way) before arriving at our final destination: the Island House. Found smack-center of the island, it's a two-story house that's solely habituated with hammocks and picnic tables downstairs while upstairs splits into six rooms, sleeping a total of 12. Importantly, it's also the only lodging on the entirety of Ray Caye that offers this sweeping bird's eye view. All other accommodation options are found entirely on the ground floor.
Our rum punch condenses in our hands and we soak in the warm salt air from our veranda, before taking a walking tour of the island. Who else would scout for the best sunset spot, after all? (Spoiler alert: it's from the Lionfish Grill.)
String lights beneath coconut trees and tabletop oil lanterns greet the night, which makes an incredible ambiance for enhanced privacy and closeness. After all, you are on a private island in the middle of the Caribbean Sea in Belize. Dinner service rolls out three courses as the nightly custom, and that night, guests could choose between filet mignon with roasted potatoes and bacon-wrapped asparagus, or duck breast with a fresh cranberry sauce over sautéed veggies and purple yampi purée. And of course, dessert: cheesecake with a fresh strawberry compote.
Outstanding.
Day 2: Venturing offshore
Fueling up for a day of activities, I chose to break my fast with the grill's signature Lionfish hash and fluffy Fry Jacks. Lionfish are a beautiful, spiky but invasive species that's been wreaking havoc on reefs in the Caribbean Sea, Gulf of Mexico, and along the southeast coast of the United States. If left unchecked, they'll eat up to 30 times its normal volume and around 30 juvenile fish a minute.
Luckily, spearfishing Lionfish is positively encouraged by Ray Caye, and the onsite Pirate Reef Divers even organizes trips with trident slings for divers who want to do their part in protecting the Belize Barrier Reef. In fact, Lionfish is the only fish that is legal to catch in Belize while using a Scuba tank. Otherwise, fishing on the island is strictly catch-and-release-only, perfect for all the fly-fishers that return to Ray Caye year after year.
Wooden stairs offer access to the waters at the South Dock, where guests can cast their line, or go snorkeling and kayaking, among other non-motorized water sports on offer, including Hobie Cats. We tried our best with the Hobie Cat that morning but with a flat calm day, we didn't make it very far from the shore. However, that only made the excursion to the nearby Silk Cayes even better — an aquarium, just below the surface.
About 10 mins away from Ray Caye in the Gladden Spit marine reserve, Loggerhead turtles (some as old as 150 years), rough-tail stingrays, southern stingrays, spotted eagle rays, and nurse sharks congregate. It's here that Ray Caye offers snorkeling with a gem called Turtle Alley; at only 8 – 12 ft deep, visibility makes this even more unforgettable.
Before dinner, we headed back out to the South Dock, whose pathway is sheltered entirely by stacked solar panels above; at night, the blue lights below its waterslide attract spotted eagle rays by the score, although we've heard octopus, squid, and other fish are frequent visitors too. For a once-in-a-lifetime experience, guests can also book a guided night snorkel here.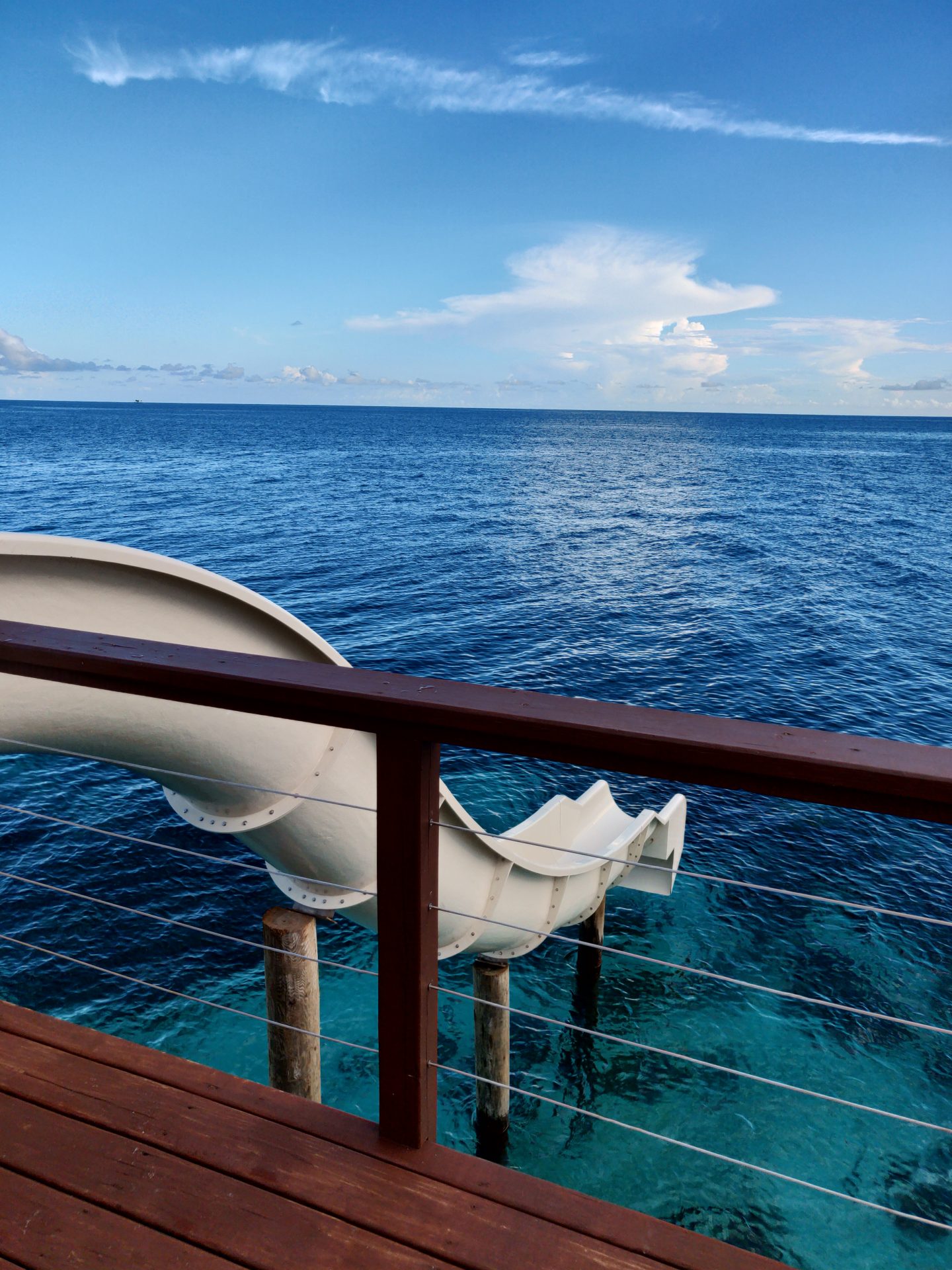 And if you've got an adrenaline bug like me, either jump off from its second story or take the guest-exclusive slide to plunge into the Caribbean Sea.
Thankfully, this visit in January 2022 overlapped with the open season of Belize's Spiny Lobster season — the dinner choice for our whole table. Every night, Chef Chris gives guests two choices of appetizers and three choices for a main; you'll likely never have the same dinner service while staying on Ray Caye, and being 'bored' with the options is simply not a thing, either. We had conch fritters as our starter, the chipotle herb lobster tail (switching basmati rice for mascarpone mashed potatoes instead), and tres leches cake.
Day 3:
That morning, I like to think the sky wept for our departure, too. The enchantment of a private island, in Belize or not, is quieting the buzz from whatever stressors lie on the mainland; sure, Ray Caye has reliable WiFi throughout almost the entire island but it's up to you to microdose reality. Checking in for those three days away also meant checking out from responsibilities, and welcoming the day on island time — whether that meant hammock naps, cannonballing into the Caribbean Sea from the guest-exclusive water slide, or switching plans from sailing a Hobie Cat to snorkeling at Silk Caye instead. Excitedly, there's also a guest-only pool now under construction on Ray Caye.
Picture it. Two luxurious beachfront honeymoon villas with glass-walled private plunge pools on a private island in the Caribbean Sea. Fine dining in an airy, open restaurant with a three-course dinner menu that rotates daily. An enviable commitment to sustainability thanks to the exclusive use of solar energy. It's hard not to answer the call of a private island such as Ray Caye, and three days is more than enough to keep you wanting more.
If you're craving more than a long weekend away for a private island idyll to yourself in Belize — A-list Celebrity status not needed — Ray Caye also offers total buyout rates. A total of US$9,999 rents you all 20 of Ray Caye's rooms and the entire island, essentially closing its dock (except for distress calls) to any incoming day-trippers too.
All images, unless stated otherwise, taken by author/CCL.