It's the new year, which means it's time to add new adventures to your bucket list. Belize offers many exciting and amazing explorations just waiting to be discovered. The country's lush jungle, pristine barrier reef, ancient Maya cities, rich culture, and natural beauty make it the perfect playground. As you wander Belize's great outdoors, go at your own pace and you will surely have a fantastic time! 
Here are Belize's top ten must-dos in 2020
1. Actun Tunichil Muknal Cave
The Actun Tunichil Muknal Cave, situated in Tapir Mountain Nature Reserve in the Cayo District, is, in fact, one of the top 10 sacred caves in the world, according to National Geographic. A trip to the cave requires almost a full day, so be prepared. You will start off with a hike, which entails crossing two flowing streams, plus a short bracing swim to enter the cave. Spend roughly 3 hours inside hiking through water streams and boulders. Crossing sacred ground by foot, you can see pottery and magnificent geographical formations. Set your sights on a Crystallized skeleton, the "Crystal Maiden", proof that Maya Sacrifice once took place in this sacred cave. 
The Mountain Pine Ridge Forest Reserve, located in the Cayo district, is the oldest and largest protected reserve in the country. Lush green pine and broadleaf forest, beautiful rivers and hidden waterfalls that speckle the area make for a nature lovers paradise.
3. Zipline & Cave tubing at Jaguar Paw
Add a little adventure to your family holiday by booking a zip-line tour. Feel your heart race as you zip across Belize's lush rainforest canopies. As you move from tree to tree this exhilarating experience allows you to explore Belize's jungle from above. Craving more adventure? Add cave tubing to the trip; float and meander through Belize's cave branch river system and explore the underworld of the Maya. 
Hidden in the forest near Belize's largest freshwater lagoon lies Lamanai, a monumental city of the distant past. Crafted by and credited to the great Maya civilization that once thrived here, this awe-inspiring architectural wonder is an attractive destination for any thrill-seeking modern explorer. 
Chocolate has long been part of our ancient history, starting with the Maya, who used cocoa beans as a form of currency. Since its discovery, the whole world has developed a taste for chocolate. Belize is one of many countries with warm humid weather suitable for growing cocoa trees. Cocoa is and has been a large part of Belize's agriculture trade since the 1950s. While in Punta Gorda, head over to Copal Tree Lodge for an immersive experience on their Bean-to-Bar Tour. You will come away with renewed appreciation for all the work it takes to create these mouthwatering chocolates the world so desires and craves.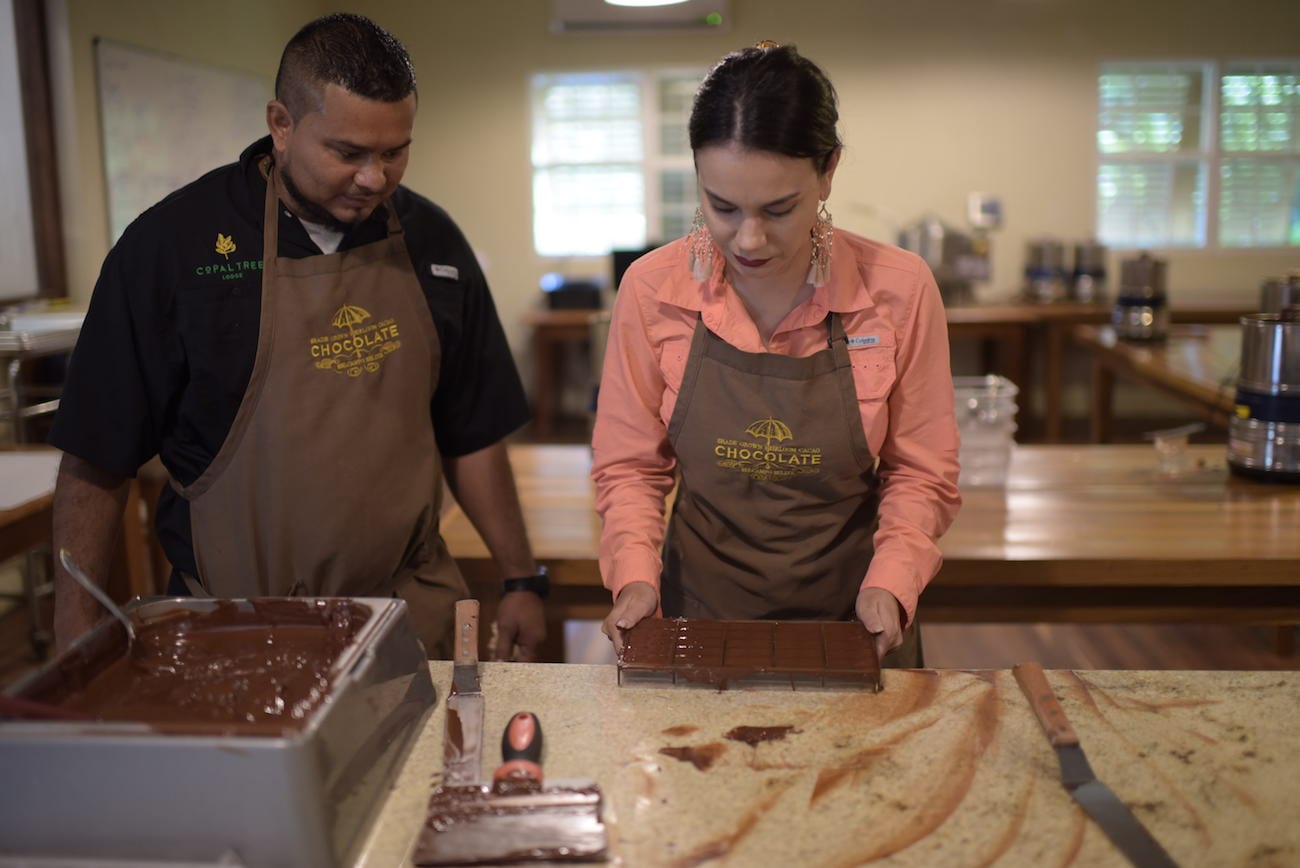 Belize, home to the magnificent Great Blue Hole, accompanied by the second largest Barrier Reef in the world, makes it a sought-after diver's paradise. Type the words "What is Belize known for" in any search engine and the first thing to pop up are images of pristine reef systems, exotic marine life, and scores of references to the famous sinkhole known as The Great Blue Hole. Not a diver? That's okay. You have the option of exploring the Blue Hole from above with Maya Island Air's Blue Hole Tour. 
Swim with nurse sharks and rays, fish, garden of corals – This area stretches some 185 miles along the country's coastline. It includes seven marine reserves, over 100 Cayes and three coral atolls. The reef's clear waters and beautiful creatures are a haven for scuba divers and snorkelers. The Barrier Reef includes an amazing panorama of brightly colored creatures and corals of many shapes and sizes. You can find more than 400 species of fish and thriving marine environments. It is a natural wonder to behold. Whether you are a scuba diver, freediver or a casual snorkeler — visiting the reef is a definite must!
Are you up for an adventure with the largest fish in the sea? Swimming with whale sharks is a must-do activity on your bucket list. Swimming, diving or simply spotting a Whale Shark or two is a remarkable experience. They are easily distinguishable because of their size and beautiful white spots, among light horizontal and vertical stripes. Sightings in Belize are possible between the months of March and June, usually in conjunction with a full moon.  It is recommended you plan your snorkel or dive trip on or around the full moon when the sea is rich in plankton and spawning is at its peak.  
9. Take an ATV Tour of Davis Falls
Davis Falls is the second-highest waterfall in Belize, located in the heart of the lush green forest. The best way to experience this beautiful waterfall is to take an ATV tour. The ATV  tour takes participants into inaccessible areas of the surrounding jungle in order to experience the natural beauty of the area and learn more about the astounding plants and animals of Belize. After the ATV tour, cool off in the crystal clear pool at the base of the waterfall. 
Also in the Mountain Pine Ridge, there is a unique waterfall located near the Hidden Valley Inn, an 80ft single drop waterfall that ends in a beautiful pool surrounded by rocks and abundant flora and fauna. The best way to experience this waterfall is to book a stay with the Hidden Valley Inn. Start the journey by going on an intense 30-minute hike to get to the falls. Also, the perfect time to be at the falls is between 9 and 11:30 am. See the beautiful blue morpho butterflies that flutter in this paradise.
So, there you have it! Belize's top ten most amazing things to do when visiting. Join the adventure and discover a destination like no other!  
Written by Vivian Lizarraga