Belize is full of hidden gems, and you'll find one just outside the popular beach town of Placencia. The village of Seine Bight is a few miles north of Placencia between Maya Beach and the Placencia Lagoon. It's a quiet place that feels like it's a world away from the popular tourist destinations of Placencia Village, San Ignacio or San Pedro in Ambergris Caye. Seine Bight's original inhabitants were the ancient Maya, who established a trading settlement on the shores of both bodies of water. Pirates discovered this hideaway on the beach in the 17th century, later using it as a trading post of stolen loot for many years. Today, Seine Bight is a stronghold for the Garifuna.
A tight-knit Garifuna community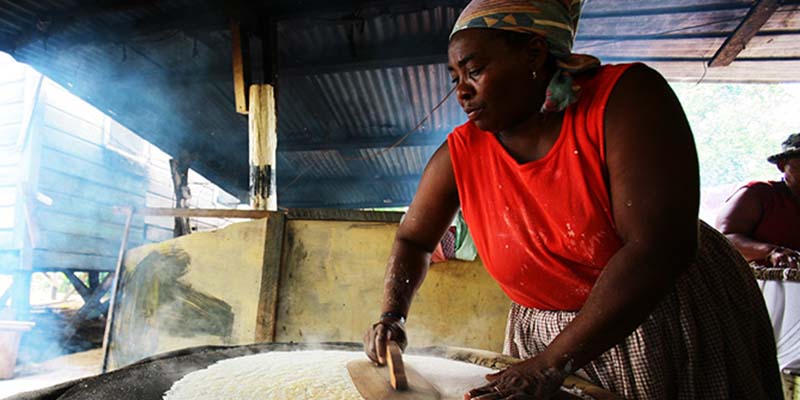 In the nineteenth century, the Garifuna people settled here when they found a haven in Belize. Today, Seine Bight is an authentic Garifuna fishing village with about 1000 residents. Villagers grow several exotic fruits and vegetables including breadfruit, blue mango, sea grapes, craboo, cocoplum and soursop. Truly, the Garifuna culture is fascinating. Although they are a small community, the Afro-Caribbean Garifuna have had an overwhelming and tremendous impact on Belize's culture. Not to mention, Garifuna musical groups have won international competitions for world music. They also developed the unique sound of Punta Rock. Garifuna celebrations always feature traditional drumming and dancing.
Authentic Belizean flavors
Seine Bight is does not shy away from the wonderful diversity of Belizean food, especially with its stronghold in Garifuna roots. No visit to Belize is complete without tasting some Sere: a soup of coconut milk, okra and pan-fried fish. A chunk of freshly baked cassava bread, coconut-flavored rice and mashed plantains often accompany these meals. Or, the sticky, sweet dessert of Cassava Pudding that is made with condensed milk, cinnamon and vanilla. Wash down all that goodness with a swig of Belikin Stout or "bitters". Descriptive of its taste, "bitters" is a potent tonic made by soaking herbs and tree bark in rum – often an acquired taste. In Seine Bight, you'll get a true taste of authentic Belize.
The beach at Seine Bight Village
While there are beaches in Seine Bight, don't expect the public beaches to be as well-maintained as those in the resort areas. You can explore Seine Bight by bike or golf cart; you can also explore the area from a sailboat or sea kayak. There are several tour operators in nearby Placencia that can arrange boating and fishing trips. If you're looking for a hidden gem that won't be on most tourist maps, take a day trip to the small and charming village of Seine Bight. 
Feature photo courtesy Belizing.com