Three Must-See Atolls in Belize
Belize is filled with pristine, natural beauty. Nowhere is that more true than in the stunning atolls that dot the turquoise waters near the Belize Barrier Reef.
These coral islands are worth a visit. Their crystal-clear lagoons present an unforgettable experience for divers, sea kayakers and snorkelers.
What Are Atolls?
An atoll is an island made of coral. You will only find atolls in warm waters because coral needs warm temperatures to grow.
Underwater volcanos occasionally erupt, creating large stone formations. Over time, coral begins to form on the stone formation. When the stone formation disintegrates, it leaves the coral ring floating on the sea's surface.
In the Western Hemisphere, there are 4 atolls and Belize is home to three. The fourth atoll can be found near Banco Chinchorro in Mexico.
What's Special About the Atolls of Belize?
It takes nature thousands of years to create an atoll. You can explore one just by taking a boat ride from key locations in Belize.
The atolls found in Belize are home to a huge variety of fish, waterfowl and marine mammals, including endangered species such as manatees, American crocodiles, and sea turtles.
Three Must-See Atolls in Belize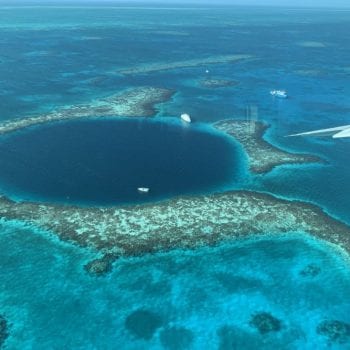 Lighthouse Reef Atoll: Located 50 miles east of Belize City, this atoll is home to the Great Blue Hole, one of the largest sinkholes in the world.
The Blue Hole is a "bucket list" destination for any serious scuba diver. Divers and explorers have been fascinated by this underwater sinkhole since Jacques Cousteau first explored it in the 1970s.
The Lighthouse Reef Atoll has a number of mangroves and a lagoon where you can find crocodiles and egrets. The atoll is also a great nesting site for sea turtles.
Snorkeling, scuba diving, and fishing are top tours to do here and it is the only atoll in Belize with its own airstrip.
Turneffe Atoll: Located about 20 miles from Belize City, and southeast of Ambergris Caye and Caye Caulker, Turneffe Atoll is the largest atoll in Belize. It is about 30 miles long and 10 miles long and is close to the Belize Barrier Reef.
You can explore the reef and atoll by boat or sea kayak. This atoll offers world-class snorkeling, scuba diving, and fishing. On November 22, 2012, the atoll was declared a marine reserve by the Government of Belize.
Glover's Reef: This atoll was the home base for 17th-century pirate John Glover. It is a stunning atoll with white sand cayes, lush foliage and a variety of exotic wildlife. It is home to the Glover's Reef Marine Reserve.
Protecting the Beauty of Belize
Belize's beautiful atolls are protected by the Coastal Zone Management and Authority Institute (CZMAI). This authority manages the allocation and sustainable use of Belize's coastal resources. Areas under its protection include the Belize Barrier Reef, the three major atolls, seagrass beds, mangrove forests, and marine reserves.
It also works with the Protected Areas Conservation Trust (PACT) to implement the Marine Conservation and Climate Change Adaptation Project (MCCAP) in the coastal areas of Belize.
Written by Larry Waight